Originally published at: All-inclusive business collaboration software - Nextcloud


All-inclusive business collaboration software for remote working
First there were WFH and zooms, and soon after there were workations as a staple and an entire event industry going hybrid. Maintaining a comfortable and productive remote working experience via business collaboration software is as important as having functioning elevators in the office tower.
Nextcloud is a business collaboration powerhouse that provides consumer-grade comfort. Our solutions, after all, are built by a distributed community members and employees, continuously tested and perfected by the very same users.
It is great to see a product that speaks for itself and people ask for it. Often products don't get accepted because users don't need it or it doesn't work for them. With Nextcloud you see a hunger for more.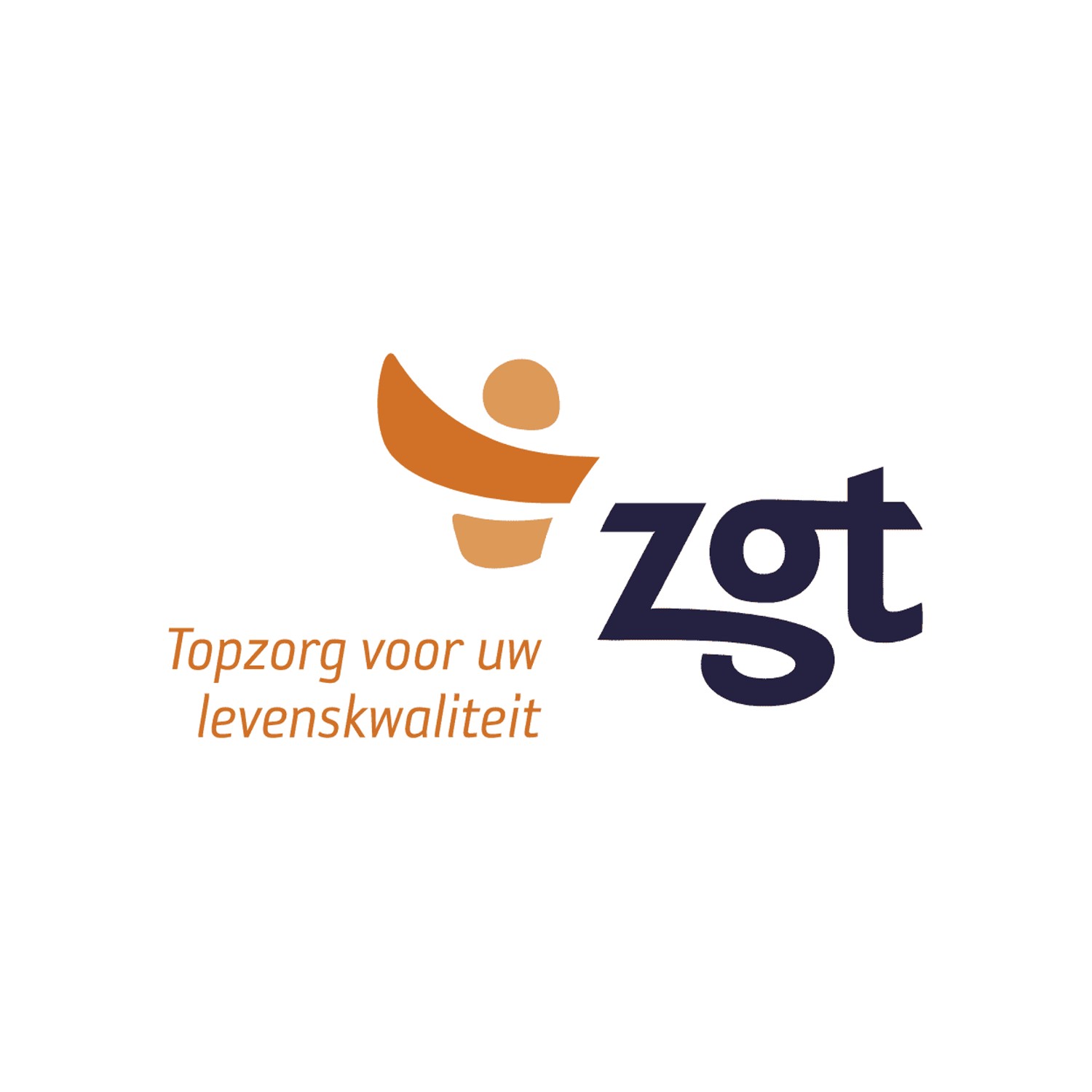 Whether intended for a hybrid or a remote-first working model, Nextcloud incorporates an agile online collaboration and sharing environment for business integrated with native communication tools and multitude of satellite apps working together as a whole.
Tackling the challenges of the paperless office
Going paperless is awesome. With all documentation and communication being digital, not only your business reaches peak performance with less environmental impact, but it also becomes much more cost efficient.
With less funds reserved to office supplies, storage, mailing, document preservation and recreation, and labor costs, a company can save up to $660,000 annually. That gives paperless office a considerable ROI.
However, with the benefits that online document sharing and co-editing offers come challenges that require the right solutions.
1. Compatibility with your business environment
First of all, there's a certain industry where you operate and the standards that you need to adhere to. It may start with something as simple as document formats you are using: OOXML, ODF, or PDF. Your software must be able to work with these formats flawlessly. Same is true for the features in your CRM, video conferencing software, and the file sync&share system.
2. Turnkey customization and modification
Very seldom the collaboration platforms are perfect for your workflows as they are. Most of the software vendors know it, so they offer the opportunity to customize the the existing platform and integrate new components in it. But fairly often, you are limited by an overly curated app store that brings not quality but a vendor lock-in. We offer interoperability that lets you integrate and replace components, choosing from a variety of options or going for your own custom integration.
3. Scalability
Scalability matters not only for accommodating a large number of uses, but also for providing your team with a room for growth without sacrifice. That includes both the amount of users per instance that won't overload your system and the ability to set up and connect multiple instances to establish collaboration and management among autonomous local teams.
4. External collaboration
Ability to collaborate outside hassle-free is just as important. Limitations on external sharing and paid basic features is the way many vendors force you into upgrading your plan. In Nextcloud, we do not charge you for that. We don't care how many users you take in, or whom you share your files with.
5. Training and onboarding
Small learning curve means lower investment in training and sometimes even personnel. A familiar, intuitive interface is what users need to be happy. And once again, it will keep them from running away from your system in favor of secretly using free consumer tools. Keep your employees happy, your costs low, and your data safe.
6. Data security and privacy
Finally, keeping all company's documents online requires better care of data security and privacy through technology, policy, and awareness. Nextcloud lets you regain control over your data with self-hosted solutions continuously tested and improved by a vast team of security specialists.
Go paperless with Nextcloud
A scalable collaborative platform that requires very little to set up and supercharge your teamwork.
Changing rules: ensuring compliance today and tomorrow
At Nextcloud, we take security very seriously, ensuring full compliance with provisions of the important regional and industrial regulations including GDPR, CCPA, HIPAA, FERPA, and COPPA.
We fight for independence from global cloud providers that prey on your data and market loud promises behind the black box of proprietary code. With secure on-premises deployment, your data stays local and out of sight of the big tech. This is what we call trust by design, not threatened by the dynamic regulation landscape.
On top of that, open source code and consistent update cycle mean that every minor issue is spotted and patched before you blink — and it's not only backed by our own good faith, but by a vast community of developers and enthusiasts who make our solutions better every day.
Global scale, local data
Scaling an on-premise solution across a network of independent data locations is no easy task. Storage accommodation, load balancing, and database licensing exponentially increase the price you pay for large a private cloud.
Nextcloud Global Scale is designed to serve millions of users within a network where lower maintenance costs meet full local control over data:
Federated sharing with unlimited scalability
Cost reduction via deployment on commodity hardware and software
Locality and low latency via distribution between data centers
Minimum security risks, maximum regional regulation compliance
Reclaim your data with Nextcloud Enterprise
Nextcloud Enterprise is a full-stack collaboration platform control over your data first. Built by users, for users, it delivers clean, effortless experience for administration and teams alike.
With Nextcloud Enterprise, you you get:
Pioneering file sharing, office, communication and groupware
Boundless customization and growing selection of integration-ready apps including Microsoft tools
Enterprise-grade security features and faster critical bug fixes
Open source code and well-documented open API
Short learning curve with dedicated professional support
Get a quote
One-stop-shop for business collaboration that grants compliance, scalability, and control over your data.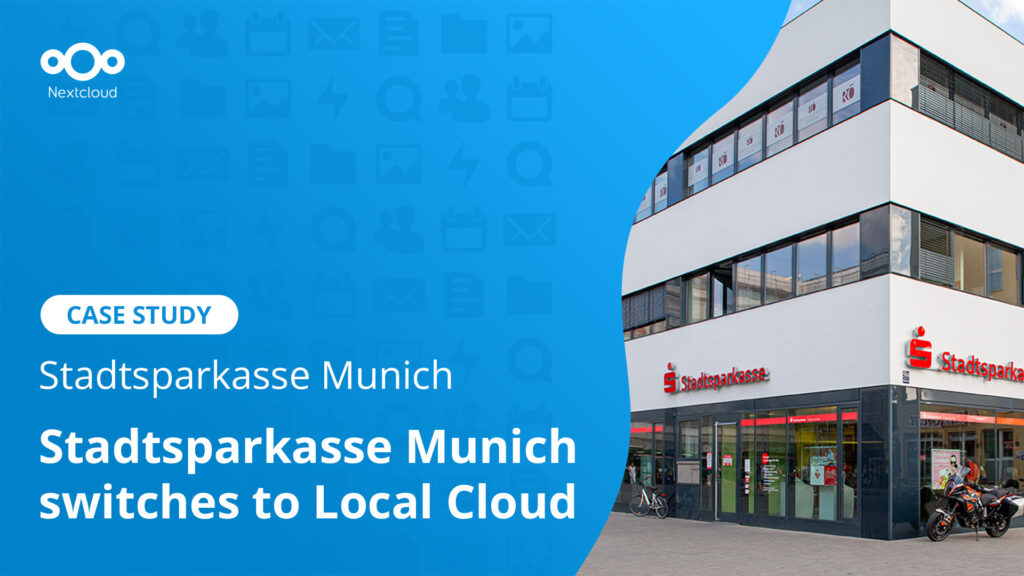 Nextcloud partner HNK has provided this Munich city bank with a secure, compliant collaboration platform.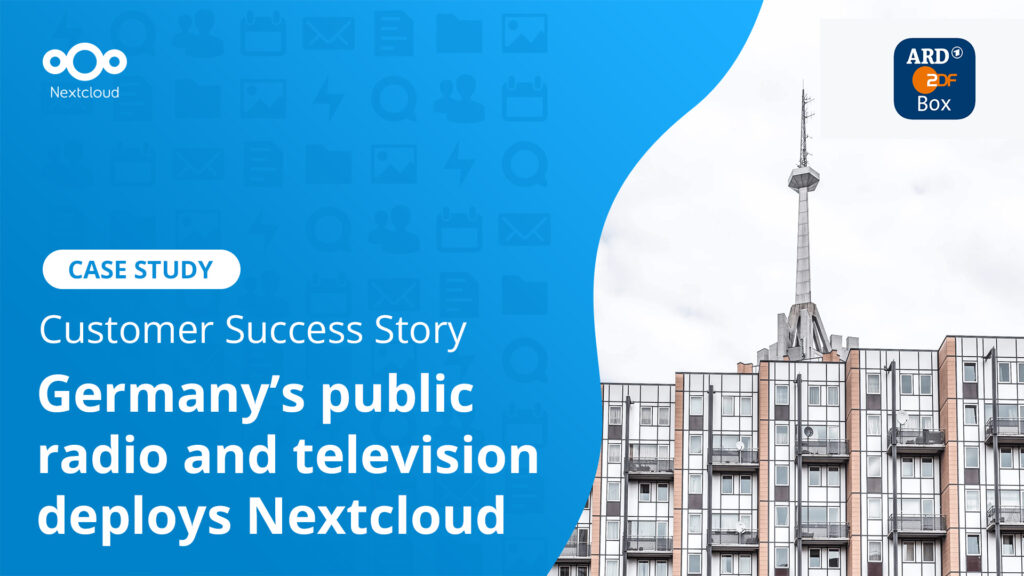 IVZ, Germany's public radio and television deploys Nextcloud with ONLYOFFICE for efficient file exchange and online content collaboration.
Dutch hospital ZGT achieves digital sovereignty with Nextcloud.