Originally published at: Nextcloud Enterprise Day recap - and chance to book for the next! - Nextcloud


Panoramic views of Berlin, active Q&A's with our speakers, lot's of networking, and after work drinks (Feierabendbier in German) at the hotel bar – may we add, with a view of the largest free-standing cylindrical aquarium in the world! These are just a few of the memories the visitors at Nextcloud's last Enterprise Day took home with them!
Twice a year, Nextcloud hosts Enterprise Day for all prospective and current customers. It's a great opportunity to gain more information about Nextcloud, discuss changing demands in business and their impact on IT security, as well as talk personally to our experts, customers, partners, and guest speakers.
Enterprise Day provides IT professionals like project managers and decision makers the opportunity to define their own strategy to get the most out of their Content Collaboration Platform.
Last June, Enterprise Day was hosted at the dazzling Raddisson Collection Hotel. The Raddisson is located at the edge of Alexanderplatz, directly next to the DDR Museum and Berliner Dom, as well as across the street from the Humboldt Forum. Come for the talks, drinks, and conversations, and stay to explore the illuminous city of Berlin!
The day started out with a welcoming coffee as people made their way in and got settled. We like everyone to be able to ease into the day and have the chance to say a few hellos before the main event begins. From there, everyone gathered in the spacious meeting room where Nextcloud's owner and CEO, Frank Karlitschek, gave an enlightening intro into Nextcloud's company goals and future vision.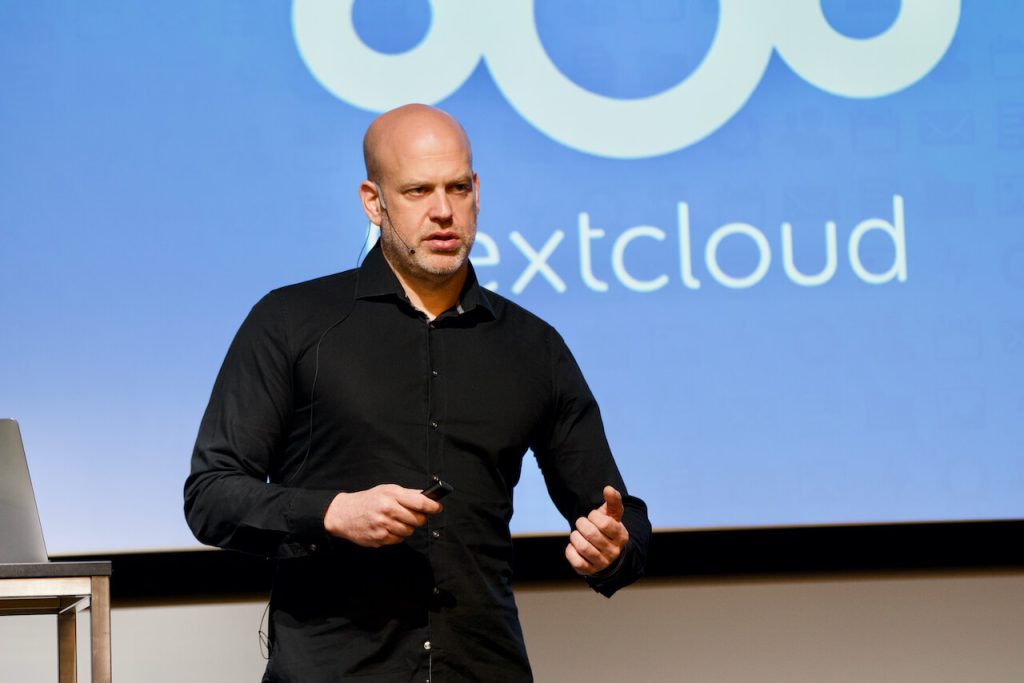 Frank's opening session was followed by a variety of talks, beginning with a product overview and followed by a session from our productivity partners Collabora and Sendent, covering Nextcloud Office and our Microsoft Outlook integration. After lunch, Maxime Le Héricy, our Sales Engineer in France, started his talk by comparing a Proof of Concept with drilling a well – you need to go through the steps carefully to make sure things work out for you!
The afternoon also saw a session where the participants discussed their needs with the Nextcloud management team and closed with the presentation of a number of case studies in the Health, Government, Education, and Enterprise sectors.
Once the official event adjourned, everyone was invited to the hotel bar on the main floor to have a drink, relax after a long day, and continue conversations. This bar happened to showcase a gigantic fish tank in the middle of the hotel called the AquaDom! The AquaDom is a 25 meter tall, cylindrical acrylic glass aquarium with a built-in transparent elevator for viewing fish. In fact, it's the largest free-standing cylindrical aquarium in the world!
You're in luck, as our next Enterprise Day will also be held at the Raddisson, so you can experience it for yourself!
Join us on October 4 at the Raddisson for another full day of talks, conversations, and networking!