[/details]
Nextcloud version (eg, 20.0.5): 26.0.1
Operating system and version (eg, Ubuntu 20.04): Ubuntu 22.04.23
Apache or nginx version (eg, Apache 2.4.25): Nginx 1.18.0
PHP version (eg, 7.4): 8.1
Hi I am running a Ubuntu 22.04 server with a Nextcloud host installed on it.
I have also connected a domain and verified that the NextCloud GUI is working fine in a browser.
However, when I try to connect to the server to use the Nextcloud client on my windows desktop, I get an error saying that the time has expired while trying to connect with Nextcloud.
If I connect via browser to https://cloud.jhyeon.dev/status.php, the URL path where the error occurs, it connects fine, but this only seems to happen on the client.
I'm not sure what is causing this, is there any way to resolve this?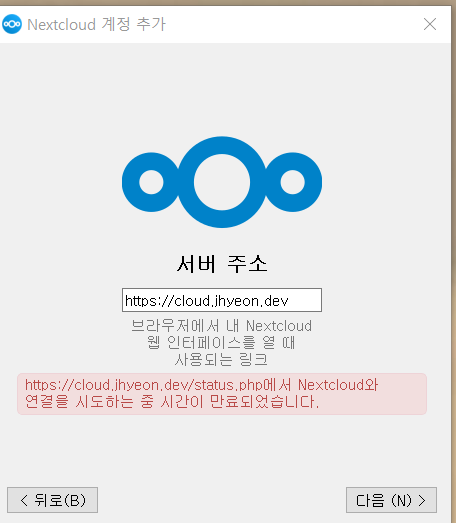 However, on my other device Mac OS, I can connect to the server through the Nextcloud client.