Originally published at: https://nextcloud.com/blog/nextcloud-desktop-client-3-1-is-here-with-new-conflict-dialog-notification-handling-and-sharing-options/


Just before the end of 2020, our desktop team has finished work on the 3.1 release. This comes with a range of improvements in the user interface and under the hood. We will now ship new releases also as MSI installer on windows and there have of course been many bug fixes, notably including memory usage improvements.
What's new and improved
New conflict handling dialog
When you're traveling and have no wifi, it can happen you modified a document that was also changed by somebody else! For these cases, our new conflict dialog will provide you with your options: choose either of the two files, or preserve both.
Action buttons on activities
The activity stream has been 'clickable' for a while now, but sometimes events will provide you with options like picking up a call or ignoring it, approving a login on another device, or ignoring app updates. This should make the activity list both more useful and allow you to dismiss items that aren't interesting to avoid getting spammed!
Easier sharing
When sharing a file, you can of course choose a recipient on your Nextcloud server, or create a public or internal link. Nextcloud also allows you to email somebody directly, or share a file in a Talk chat room directly and these features are now also supported in the desktop client.
More – MSI, debugging and performance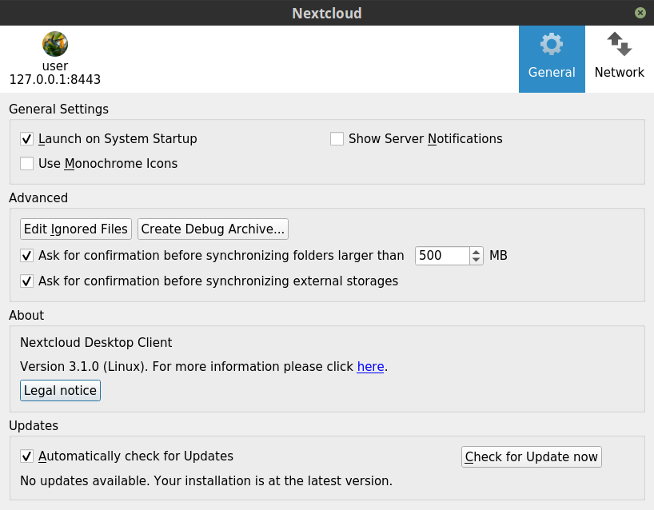 Besides the user-facing features above, we've also made a number of other changes.
The client is now also available as MSI installer. Our plan is to drop the old Windows installer and move to MSI alone after the 3.1.3 release.
Logging is now enabled for everybody and we introduced an easy 'get debug info' button in the settings to help you help us track down issues.
Besides many bugfixes, a number of memory usage issues was addressed so users who keep the client running for a long time should not see it ballooning memory usage anymore.
Get it now
You can get the latest client on our installation page and you'll be notified of the new version soon.
Thank you 🙇 to our amazing community!
A big thanks go to all the awesome members of our community that regularly help us make Nextcloud better, by translating Nextcloud to other languages or reporting and fixing issues!
Would you like to contribute to our Desktop client too? Check out all you need to know here.
Feedback 🔥🤩👍🤯🤡
We appreciate your feedback! If you'd like to share your comments with us, continue the discussion in our forums. What's the best thing about the Nextcloud Desktop Client so far?