Originally published at: Nextcloud Conference 2023: Call for speakers! - Nextcloud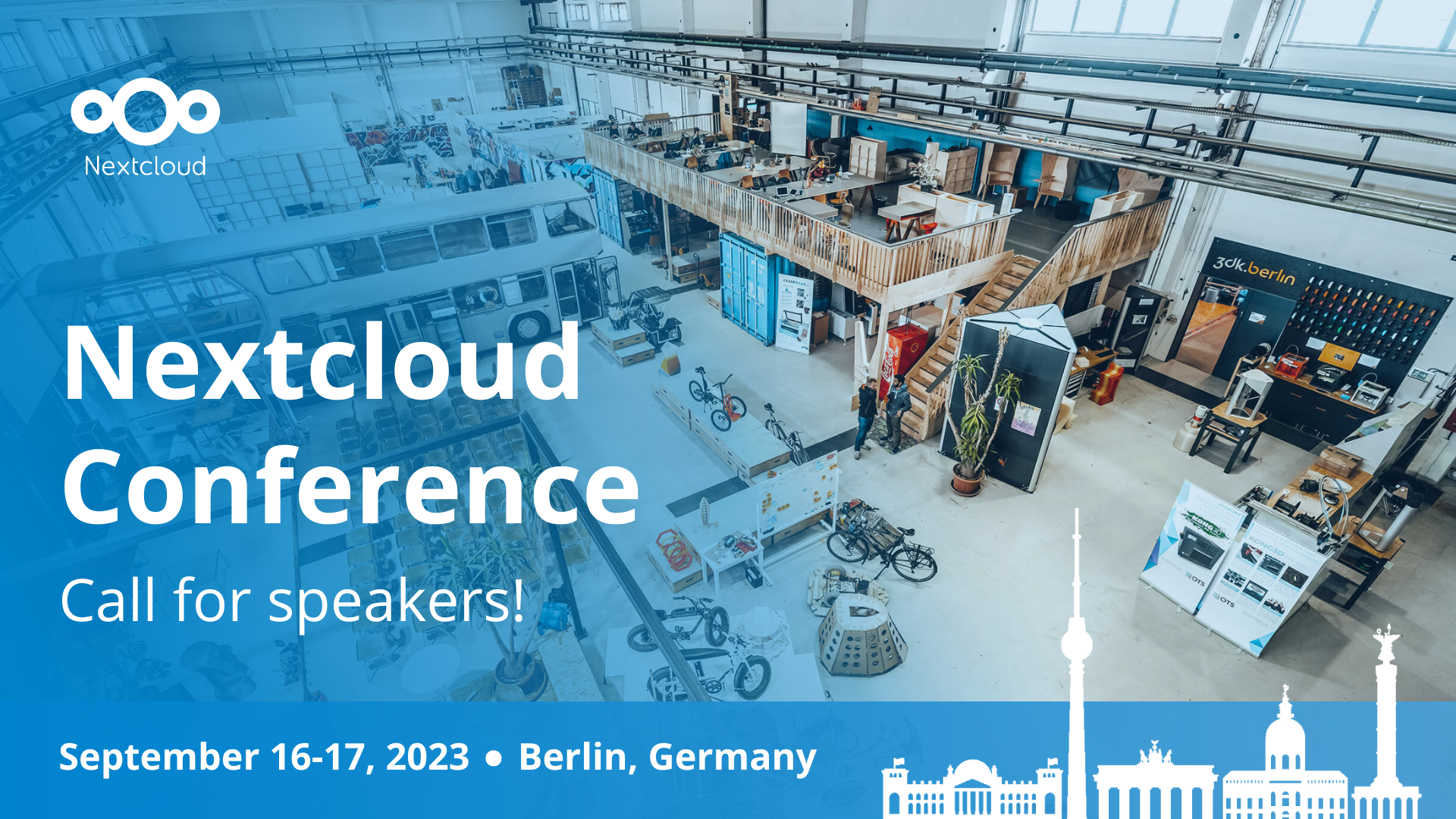 💙 Are you passionate about open source?
💙 Do you want share an update about developments in Nextcloud?
💙 Passionate about privacy-focused projects?
These are just a few questions to ask yourself that could be great speaking topics!
Be a speaker at Nextcloud Conference
We are looking for sessions that give an insight into our ecosystem and what's happening! Think of an update about developments in a Nextcloud application, the presentation of a privacy-focused project, a piece of hardware with Nextcloud, and the development status of a feature. Anything that is interesting and useful for people in the Nextcloud community will be considered.
The deadline for the Call for speakers is  August 18th. If your talk is accepted, you'll receive a confirmation from us. After that, you have time until the  4th of September to submit a draft of your slides! 
You have the option to either give a 5-minute 'lightning talk' or lead a 1-hour workshop:
Workshops: These are meant to be interactive learning sessions, allocated in slots of 30 or 60 minutes.
Lightning Talks: These are 5 minutes talks on many different topics, like the status of an app or ideas for new ones!
💙
Proposal deadline: August 18th
ℹ️
5-minute lightning talks or lead a 1-hour workshop
Proposals FAQ 🗒️
✔️ What if I am not a public speaker?
Bear in mind that the talks are meant to be low-key and low-stress. We encourage and welcome anyone to present and just want to provide you a cool platform to share what you love! The conference team is happy to help prep you and practice if you're worried about anything.
✔️ When will I hear back if my proposal was accepted?
We will get back to you as soon as possible. If your proposal is accepted, you'll receive an email from us! Note that sometimes we receive a lot of talk proposals, so then we have to select them based on the first come, first serve model. Nevertheless, we accept most proposals that are sent in so your chances are high.
✔️ Do I have to prepare anything?
Yes. For both lightning talks and workshops, you will have to submit a draft of your slides for us to approve. The deadline for slide submission is September 4th.
✔️ Does it need to be memorized?
No. Prepare your talk how you see fit! If you prefer to memorize it, create note cards, or have a word-for-word copy to read from, all options are acceptable.
Nextcloud Conference
Learn more information about the conference and contributor week from September 16-22
See you at #NextcloudConf!