Originally published at: Nextcloud Conference 2022: Call for Speakers! - Nextcloud


Time flies, and that means the Nextcloud Conference will be here before we know it!
Coming October 1st and 2nd, get ready for a series of keynotes, lightning talks, workshops, and more. Therefore, we're inviting you to submit your talk proposal idea by August 15!
Be a speaker at Nextcloud Conference
Do you want to share a new feature of an app you've been working on or lead an insightful workshop?
We are looking for individuals to give 5 minute 'lightning talks' as well as those who would like to lead a 60 minute workshop.
Lightning Talks ⚡
Lightning Talks are 5 minutes talks on a wide variety of topics, subjects, and interests. We are very open to what you would like to present, therefore, most topics are accepted in lightning talks.
Examples include:
This is how we use Nextcloud Deck in our soccer club!
Digging deep – A short overview on debugging Nextcloud and apps
Intro to the Android app dev process, why you should join the design team and how we do performance testing
Workshops 👥
Workshops are meant to be interactive learning sessions, allocated in slots of 60 minutes. It's a great opportunity to teach about something you're an expert in which greatly benefits our community.
Examples include:
Learn how to develop a Nextcloud app!
Building Workflows
Bring your Nextcloud app to Vue.js
Whether your expertise deals with data privacy in the EU, open source code, or any other subject related to Nextcloud, there's a place for you as a speaker at the upcoming Nextcloud Conference. We invite you to submit your proposal today for your chance to make a difference in the open source and Nextcloud community.
The deadline is August 15th, so don't miss your chance!
Submit a Proposal
Learn more!
In addition, registration for the conference is open so sign up or first learn more about the event on our Nextcloud Conference page. We'll keep registration open until a few days before the event, but it's best to sign up as soon as possible!
We are really looking forward to the next Nextcloud Conference as it's our first year back in-person since 2019 (2020 was all virtual). Check out some videos from previous years' events!
Lastly, if you have any questions, you can reach us on Twitter, Facebook, or on the community forums.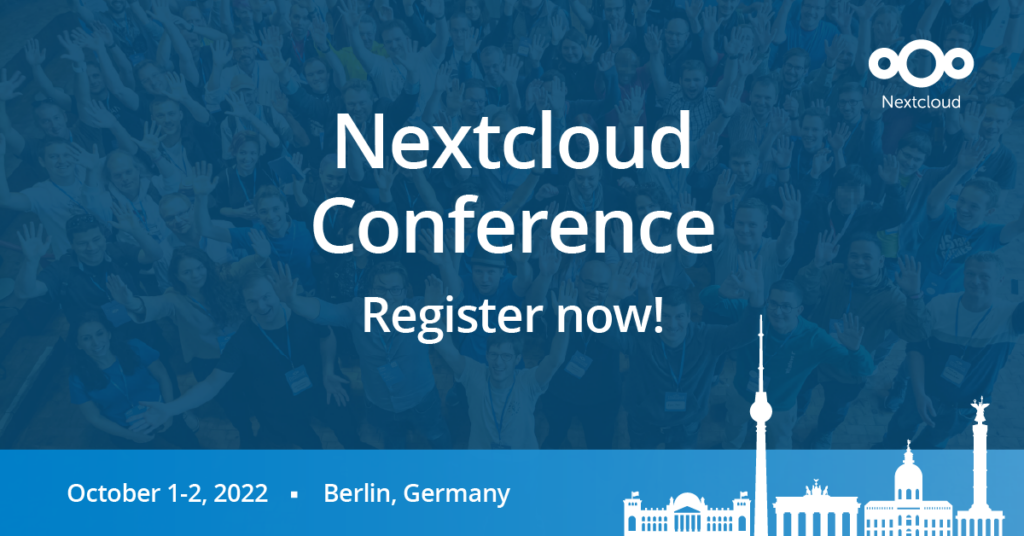 What's the game plan?
On Saturday and Sunday at bUm in Berlin, we kick off the day with an inspirational keynote speaker, followed by 30 minute panels and a technical talk after lunch. Then, it's time for the traditional Nextcloud lightning talks and a workshop session!
While we have yet to announce keynote speakers, you should stay tuned for some big news!
Speak at the Conference, Stay for Contributor Week!
During the 2-day Nextcloud Conference, we also host simultaneously our famous Contributor Week from October 1-4! This is a week full of coding, developing, designing, discussions, only interrupted by relaxing evenings! You're invited to come work with us on the future of private, federated, secure cloud technology.
If you want to build the next greatest Nextcloud app, or just meet the people who get it done, then bring your laptop and join us for fun coding week!
Proposals FAQ
What if I don't do public speaking often?
Keep in mind that the talks are very low-key and low-stress. Anyone can present and the conference team is happy to help you practice a bit if you're worried about anything!
When will I hear back if my proposal was accepted?
We will get back to you as soon as possible. If your proposal is accepted, you'll receive an email from us! Note that sometimes we receive a lot of talk proposals and then we have to select based on time – first come, first gets the speaking slot! Nevertheless, we are really looking forward to welcome you at Nextcloud Conference!
If accepted, what comes next?
For a workshop, you will submit a draft of your slides for us to look over. For lightning talks, just prepare your talk by the conference dates. If you prefer to memorize it, create notecards, or have a word for word copy, all options are acceptable.