Originally published at: https://nextcloud.com/blog/nextcloud-announces-virtual-data-room-solution-for-ultimate-protection-of-data-during-sensitive-dealmaking/


Tens of millions use Nextcloud to protect their data, at home or in their business. That is why Nextcloud takes security so serious, developing many unique security-related features and offering a USD 10.000 security bug bounty to security researchers. In some situations data has to be protected from leaking, even by the people who gain access to it. For this scenario, Nextcloud introduces its virtual data room (VDR) solution.
Virtual data rooms
Say you want to give a third party the chance to review and perhaps even edit a number of documents but prevent data leakage as much as possible. This is useful if you're working on due dilligence for an investment, need to decide on a loan or other sensitive business transactions.
A Nextcloud virtual data room enables you to:
create guest accounts for the third party team and share files to those.
enforce the setup of a second factor for secure authentication when the guests create their account.
use File Access Control to ensure no files can be downloaded by the guests.
configure Secure View ensure the users can still read and (when shared with editing rights) modify documents, while the documents are watermarked when on screen.
Keep email content and attachments 100% confidential by using the Secure Inbox feature in the Outlook Add-in to share to the guest accounts. The email body and attachments are shared securily through Nextcloud, without risk of leakage even to the mail server. The recipient only receives an email telling them a new message was send. They can then log in securely on their guest account and view it.
If you allowed downloading files so the guests can use Nextcloud mobile and desktop clients, you can use Remote Wipe to clean their devices once the project ends.
Make sure that discussions about documents, plans and other information can take place through the integrated Nextcloud Talk so no third party can gain access to the communication, either through listening in on the calls or accessing the chat logs.
A 100% self-hosted Nextcloud solution
These capabilities and more are part of our virtual data room solution designed for use by organizations when they need a space where an often cross-organizational team can collaborate, firewalled off from either or both of their organizations.
It enables secure due diligence during a take-over or venture capital transactions. Multiple virtual data rooms can be set up in paralel, or sequentially, enabling financial institutions to ensure data does not cross between offices, countries or teams.
Where other virtual data room solutions still require data to be stored at a third party and route authentication and real-time communication through their data centers, a self-hosted Nextcloud virtual data room offers 100% control and thus near perfect protection from data leaks.
Forget about SAAS and outsourcing: an on-premises Nextcloud VDR offers the ease of use that speeds up deal making while strict control over access and fine grained auditing ensure sensitive data remains secure.
Nextcloud VDR Capabilities
Nextcloud develops the industry-leading on-premises content collaboration solution, bringing together efficient real-time communication, document editing and easy sharing together in a coherent platform.
Features include:
Activity tracking and audit log, real-time reporting
Built in secure communication with comments and audio/video chat
Secure email box (prevent leaking of email content and attachments with Outlook integration)
Advanced search within the whole VDR
Extensive file compatibility
Unlimited data and accounts
Easy, familiar interface
Document versioning
Extensive security capabilites, including:
Multi-layer, military-grade encryption
Advanced digital rights management
multi-factor authentication
Video Verification to enforce identity proof
Extensive file access control mechanisms
Watermarking of files
Remote wipe
Industry-leading ransomware protection
Nextcloud is used in extremely security-sensitive environments every day in the financial, healthcare and government sectors. Nextcloud VDR provides an even more hardened, secure, complete and easy to control environment for efficient collaboration on the most sensitive data.
You can read more about how Nextcloud can help you with a virtual data room on our website.
Feature highlights
A virtual data room is a setup customized to each use case and customer. To highlight a few of the capabilities and features useful in virtual data room scenarios, we created a series of screenshots below.
Secure Mailbox
This example sends the link and password to the recipient by email. The user can take out the password and send it through another channel. Alternatively, when a guest account is set up for the recipient, the Outlook add-in will detect this and instead share the message to the guest account and include an internal link in the email. The recipient will have to log into their guest account to access the email.
Writing an email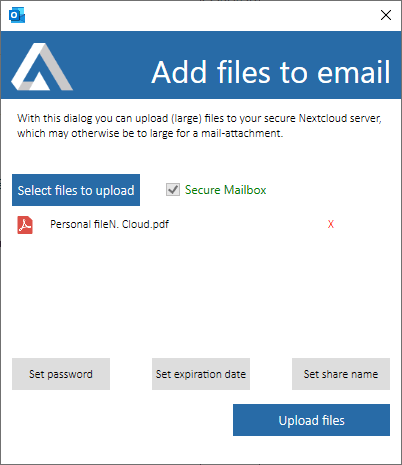 Attaching files, enabling Secure Mailbox
Remote wipe
2FA setup
2FA enforcement settings, enforcing for guest users
2FA setup on first login
one-time login token creation
Secure View & watermarks