Originally published at: https://nextcloud.com/blog/nextcloud-and-cisco-introduce-integration-with-webex/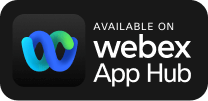 Nextcloud today introduces an embedded app in the Webex App Hub. The application allows Webex users to view and edit documents on a Nextcloud instance. Users can find, view and edit documents collaboratively while working on the Webex app. The Webex embedded app will help organizations collaborate productively as they work from the office, from home, or anyplace in-between.
When working in a Webex video call, users can now work together while the documents continue to stay on the Nextcloud server, providing the security, compliance and control over data Nextcloud is well known for!
From the press release:
"The Webex Platform enables our customers to access third-party solutions and support critical workflows. Nextcloud offers data storage options that address compliance, security and digital sovereignty requirements for some organizations while working within Webex."

— Jason Copeland, VP Product, Webex Platform
Learn more about getting started with the Nextcloud embedded app in Webex on Webex App Hub including installation instructions.