I had my NC Server running for 3 months through VB on an Ubuntu 22.04 host with no real issues. I downloaded it from Index of /aio-vm
To keep disk usage low I did not unminimize it. If I needed a command that wasn't there I have been installing it. If you want me to run a command for testing, please include the commands necessary to install the command incase I don't have it.
I have an SSL cert from LetsEncrypt. I used the certbot. No SSL issues.
I was syncing folders into a nextcloud share and everything was ine, then I started getting red Xs on everything. I shut it down and rebooted and it never came back up. I didn't check status of containers before rebooting. I went into the AIO and saw everything running excep for Apache and Nextcloud which were stuck on Starting.
I tried to create new doc in the folder and on the web interface and nothing was syncing; I was also getting the same pop up error on everything saying the file could not sync due to an error.
My research hasn't come up with anything helpful but I will post what I can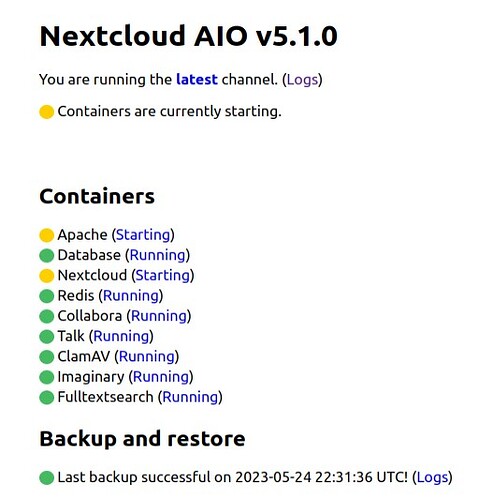 chrome will not open these links becasue they are not SSL, but you can view them through MS Edge. I don't know about firefox.
Link to results of sudo docker inspect nextcloud-aio-apache: http://nextme.ddns.net:8020/logs/docker.txt
Link to AIO logs: http://nextme.ddns.net:8020/logs/aio.txt
Thanks
Mike