Originally published at: https://nextcloud.com/blog/nextcloud-2022-wrap-up/


It's been an incredible year – thanks to our AMAZING community, partners, customers and users. We've hit some great milestones together, and have loved every minute of bringing you the best open-source collaboration platform. As 2022 comes to a close, we would love to share all our highlights with you.
2 major releases: Hub 2 & 3
This year, Nextcloud announced 2 major releases of Hub 2 in May and Hub 3 in September.
Hub 2 introduced reactions and a media tab in Nextcloud Talk, undo and schedule sending email functionalities, as well as performance and scalability improvements in the back-end of Nextcloud Files.
Hub 3 was an even greater step forward where we announced our stunning new design, accessibility options and a bunch of new features to improve your digital well-being.
Nextcloud Photos 2.0: Photo editor, AI powered face and object recognition, tile view, album sharing and more!
Nextcloud Groupware: Mail 2.0 with improved performance and updated user interface. Contacts introduces organizational chart view
Nextcloud Talk: Polls, pasted links become widgets, more options –> more details in our blog!
Nextcloud Clients: updates available for Desktop, Android and iOS clients
One of our greatest releases yet, we hope it's brought you joy, productivity and a healthier work life balance.
CloudComputing-Insider Awards winner
For the 2nd time in a row, Nextcloud won 1st prize in the Cloud Content Management category of the CloudComputing-Insider Awards. The vote came from approximately 70,000 IT professionals and left behind Microsoft and Dropbox.
We're very proud of this and we'd like to thank everyone who made this possible, that is, all of you! Especially all of you who voted, but also everyone else who consistently helps spread the word or improve Nextcloud directly with code, documentation, or helping other users on our forums. Every bit makes a difference!
Enterprise Day x2
Nextcloud held 2 Enterprise Days this year – in June and October – for our valued customers. Both events had a great turnout, led to interesting discussions and inspired the Nextcloud team to bring you even better features and functionalities for the future. If you got the opportunity to attend this year, thank you for your participation and those who missed it, we will announce next years soon!
In-person Nextcloud Conference
At the beginning of October, Nextcloud hosted its first in-person conference since 2019. Held over the weekend, we welcomed keynote speakers Maik Außendorf from the German Bundestag and digital rights and data privacy experts Felix Reda and Renata Ávila. From there were 2 panel sessions, 26 lightning talks and 4 workshops!
It was so wonderful seeing many of you in person this year and hope you had a great time meeting new people, listening to all the insightful talks and hacking with old friends.
Hackathon with the European Commission
In April and May this year, Nextcloud and the European Commission held the NextGov Hackathon that brought together 60 participants from 33 countries. There were 5 prize winners with 1st place going to a collaborative maps app by a participant from Germany.
Thank you to all the participants who contributed to our goal of building and protecting Europe's digital sovereignty.
Check out all the winners here.
Success Stories 🌟
Dutch hospital ZGT
Dutch hospital ZGT is one of the first in the medical industry to achieve digital sovereignty with Nextcloud.
Stadtsparkasse Munich
Nextcloud partner HKN has provided this Munich city bank with a secure, compliant collaboration platform.
City of Geneva
Find out how the City of Genève aims to protect their digital sovereignty with this new case study.
Growing international team 🌍
This year has brought exciting growth to the Nextcloud team. We have hired 16 new employees to several departments and have developed our regional marketing team to reach greater audiences around the world.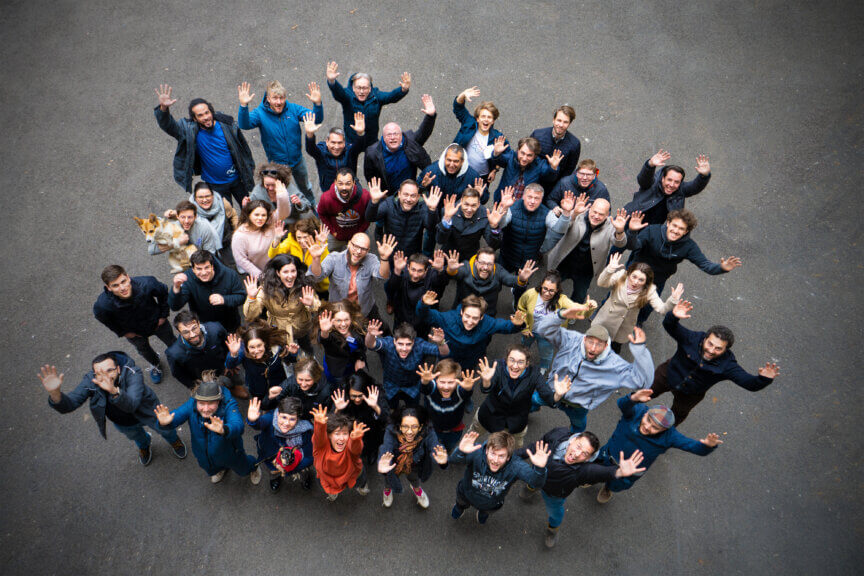 Available in more languages! 🚩
We are excited to offer our reach to more people around the world through our website being available in 4 languages (German, French, Spanish and Italian) as well as introducing new social media channels in 8 different languages!
Follow us on ➡️
➤ Twitter:
➤ Facebook:
➤ Linkedin:
8 New Integrations and Partnerships
Ciao 2022! See you in 2023! 🎊
2022 was one for the books. Thank you for being part of this journey with us, and see you in the New Year!
Cheers,
The Nextcloud Team 💙