Dear all,
First of all : Thanks for Nextcloud, it's very nice !
I'm using Nextcloud 18.0.5 for a personnal use and I'd like to use the E2EE.
My client is mainly my smart phone Iphone, with the client app Nextcloud Coherence 3.0.3.9.
I've been in the app section of my Nextcloud and installed and enabled the E2EE app version 1.4.0.
And the thing is that I don't find the option on my phone, when I create a new folder, to encrypt the folder.
in the settings of the iOS client app , there is an option "End to End encryption".
When I clic, there is a big red message (that disappears after 4-5 seconds) :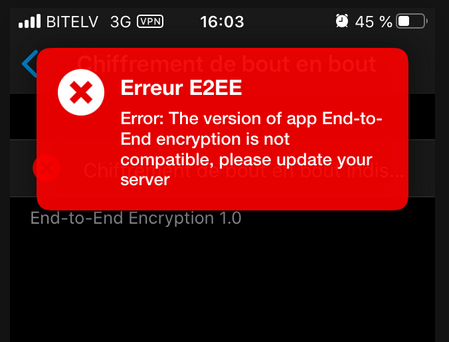 And then :
It's weird, because in the settings of the server, it's clearly mentioned version 1.4.0

Is there something more that I should do ?
Thanks in advance for your kind help