Host system is FreeNAS (BSD based)
I've made a new iocage with NextCloud
My previous NextCloud used MariaDB
Is the text in this image telling me MariaDB is installed?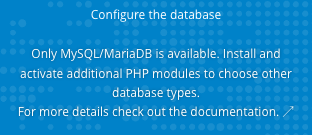 If not, how can I install the latest release (10.3); if installed, how can I update it?
If I map my new NextCloud iocage db and file directories to my previous locations, will the data get destroyed one way or another?
No sarcastic responses, please.