Originally published at: https://nextcloud.com/blog/new-grid-view-pdf-conversion-2-3x-faster-loading-dashboard-and-more/



Today, Nextcloud 15 has been made available. As there is so much new and improved in this release, we have dedicated separate blogs to each main area of improvement. In this post we describe our new grid view and design work, the Workflow features and performance improvements below and cover some of the app updates like Dashboard, our new Full Text search engine and mobile app releases just out or which you can expect the next two weeks.
User Experience overhaul: new grid view, font, button style and more!
This release introduces a big change to the Nextcloud Files app: a grid view. Especially useful when the user is dealing with images, it shows large previews of files.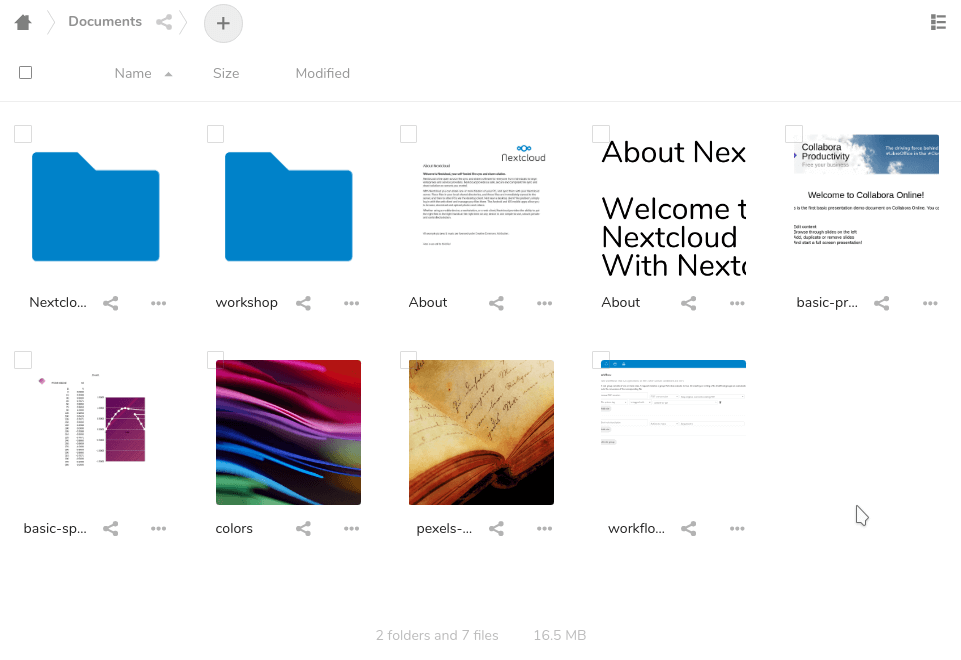 We also improved the readability of text in Nextcloud with a new font, updated the tab design in the sidebar with icons to make them easier to recognize, added more modern, rounded buttons and improved the accessibility of the app menu on top by showing app names on hover. Many other areas in Nextcloud received accessibility improvements, following on the extensive accessibility and readability work done for Nextcloud 14. Thanks to this work, blind and otherwise impaired users will find using Nextcloud easier.
Workflows: convert PDF's, run scripts!
Nextcloud has long had basic workflow capabilities, allowing custom apps to be written that would run operations on files when certain conditions are met. This release introduces two of these apps: Document to PDF converter and External Scripts. The first does what the name suggests, allowing admins to define tags or other properties that result in documents converted to a PDF.
The External Scripts app allows a set of rules to result in handing the file over to a script, essentially allowing any kind of processing to take place. Your imagination is the limit!
2-3x faster loading of the web interface
There have been performance improvements in various areas of Nextcloud but few will have the user-noticeable impact as one which reduces the loading time of our web interface with a factor three. After moving to fully vectorized graphics in the previous releases, we now included the graphical resources in our style sheets, reducing the number of requests a server has to handle when loading Nextcloud apps. This cuts loading time in half or less, according to tests done by our developers. On a test machine, uncached loads went from 15 seconds to 5 and cached loads from 3 to 1.5 seconds. These benefits will extend to Nextcloud apps over the coming weeks and months as they get updated to make use of our new API's.
Dashboard V6
The rewritten dashboard app (
introduced as part of our Education Edition
last year) is meant to present an overview of information from various apps to the user. The dashboard is empty by default but can be filled with 'Widgets'. User can add/move/resize/remove widgets on his dashboard. Currently only few basics widgets (clock, used diskspace, fortunes) are included in the Dashboard app itself, but more are expected to be integrated in other apps. We invite contributors to develop widgets! Find here
documentation about the creation of widgets.
Update of our Full-text Search engine
This is the right moment to get started with our new Elastic Search based Full-text search app as version 1.2 is now available with Nextcloud 15. The Full-text search app does more than what the name suggests - it not only indexes files and lets users search through their content but also gives app authors the ability to write a kind of plugin that lets it index data from the app. So you can search for bookmarks, calendar items, contacts, music or anything else. There even is an OCR plugin that can extract text from images. All that works from the same search box that is available in each app, if the app supports the Full Text Search app.
The full-text indexing requires Elastic Search as indexing service, though we'll work on having other plugins that can use different indexing services as well.
What can the Full-text search app do now?
UI for controlling search options
Live command for instant indexing of documents (on creation/edition)
Advanced UI for the command line index helps managing errors
Modular components allow it to be extended to search any content generated by or stored in Nextcloud
In files: Local and remote filesystem, office and PDF files are indexed. Content from images can be extracted with Tesseract OCR.
Nextcloud 15 comes with an interface to easily implement Full-text search for apps. Authors will be able to index the content of their apps and get search results to their users! Find
app integration documentation here
and documentation on the
installation and use of the app here.
New mobile apps and Talk releases
In the coming 2 weeks, more releases are expected, complementing Nextcloud 15. Besides the release of a new version from our partner Collabora Productivity (version 4.0, which has the UI changes and support for mobile integration among other things), the Talk, iOS and Android apps are all planning releases with improved collaboration and communication integration.
Nextcloud Talk 5.0 (scheduled for the week before Christmas) will deliver:
Chat and video calls around shared files/folders (the integration in the sidebar)
Detailed notification settings
Ability to invite email addresses to conversations
Improved loading speed of chat messages (from >1 minute in a room with ~1k message down to ~3-5 seconds)
Full MCU high performance backend support
You can already test 4.99 with Nextcloud 15.
Nextcloud Files 3.4.0 on Android is planned for 18.12 with these changes:
direct editing files with Collabora (Collabora Server >=4.0)
allow hide download when creating share links
share file to Talk room
set/edit notes on shares
sort deleted files by deletion date by default
search inside of text files
actions on notifications (so you can approve a 2FA login with one click!)
show local size in "on device" view
remember last path on upload
You can already test this version in our beta channel.
The iOS app released last Wednesday, December 5, with:
direct editing files with Collabora (Collabora Server >=4.0)
New picker photo/video, now it's possible to make a photo/video inside Nextcloud iOS
New view in "More" to manage files set as available offline
Optionally delete scan images after conversion to PDF
Improvements to preview (thumbnails)
Logo theming in home view
New icon in notification view
We hope you will enjoy the many improvements in Nextcloud 15! Find an overview of what has been improved in this series of blog posts: