I did the minor update
NC 25.0.6 → NC 25.0.7
with the web based updater.
System is Ubuntu 20.04 with PHP 7.4
Now NC does not work any more, I get the error:
Composer detected issues in your platform: Your Composer dependencies require a PHP version ">= 8.0.0".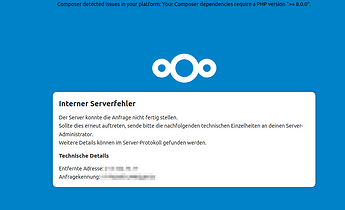 I am well aware that from NC 26 on a newer PHP Version is required, but I DID NOT expect that error on NC 25.
I post this mainly as a warning, if anyone plans to update to NC 25.0.7 and has still PHP 7.4
I know that now I have to now have to upgrade PHP to access my server again - feels a bit like a hostage situation.