Originally published at: Mobile app integration for Online Office, Talk in the file sidebar and much improved sharing - Nextcloud



Today, Nextcloud 15 has been made available. As there is so much new and improved in this release, we have dedicated separate blogs to each main area of improvement. This blog covers the work we have been doing with Collabora Online to more deeply integrate real time document editing in Nextcloud for both web and apps; and our improvements to sharing and collaboration in general.
Deep integration of online, real-time collaborative document editing
Nextcloud has been working extensively with our partner Collabora Productivity to improve the design and integration of online document editing in Nextcloud. Three major improvements are worth highlighting here:
A new sidebar
Design improvements
Integration in our mobile devices
A much more powerful sidebar
The changes are building on the
work we announced last month
which brought the sidebar to document editing.
To make instant collaboration even easier, we have now integrated Nextcloud Talk, our audio/video chat application, in the sidebar. This means: editing a document while you chat or have a call with the other editors! This is available for user, group, circle and room shares in Nextcloud, making it easy to discuss the document being edited.
The improved sidebar now also integrates Nextcloud versions as document revisions, making it easier to keep track of versions during editing. Collabora also has now HiDPI support and takes care of thumbnail rendering in the Files app so documents have nice images that go well with our new grid view. Design-wise, Collabora has seen improvements that help it fit better with Nextcloud like updated icons and colors in the toolbars.
Collabora on the go
With Nextcloud 15 and the upcoming Collabora Online 4.0 release, our mobile applications will also support online, real-time document editing on mobile and tablet devices! Watch the video to see a prototype in action.
The mobile and document editing improvements depend on releases of the respective apps planned for the coming weeks. The screenshots and video are made in work-in-progress development versions. Our iOS app has already been released, for the Android app testers can try our beta and a final release is scheduled for next week. Both require Collabora Online 4.0 which is coming later this month.
---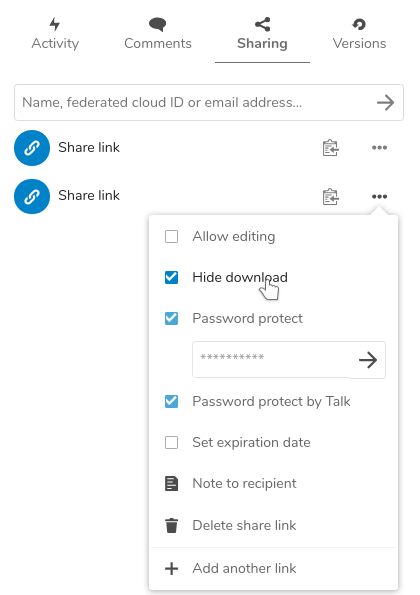 The next step in sharing
Sharing and collaboration are core features of Nextcloud, and they received significant attention for this release. Here is an overview of what has been improved:
users can now create an unlimited number of share links per file or folder, and each can be protected easily with our unique Video Verification to ensure the ultimate data protection.
New is the ability to share view-only documents without a way to download the document. This will be supported by an upcoming Collabora Online release which will add watermarks so documents can't easily be copied, even with screenshots.
The share menu itself has been made a fair bit smarter, ensuring that the auto-complete doesn't show multiple similar matches when you type a name, but consolidates identities and pick the most sensible result first. This means that when sharing to a user who has several mail addresses as well as an external (federated) cloud connection but is also present on your server, typing their name will give one result rather than 3 or more and selecting the first result will simply share on your server. If the user has a federated share and email, the federated share is preferred and only last will Nextcloud sent an email with a public sharing link. Of course, users can always select another action manually.
Group Folders is now properly integrated in Nextcloud 15 which allows versions and trash to work for files in a group folder.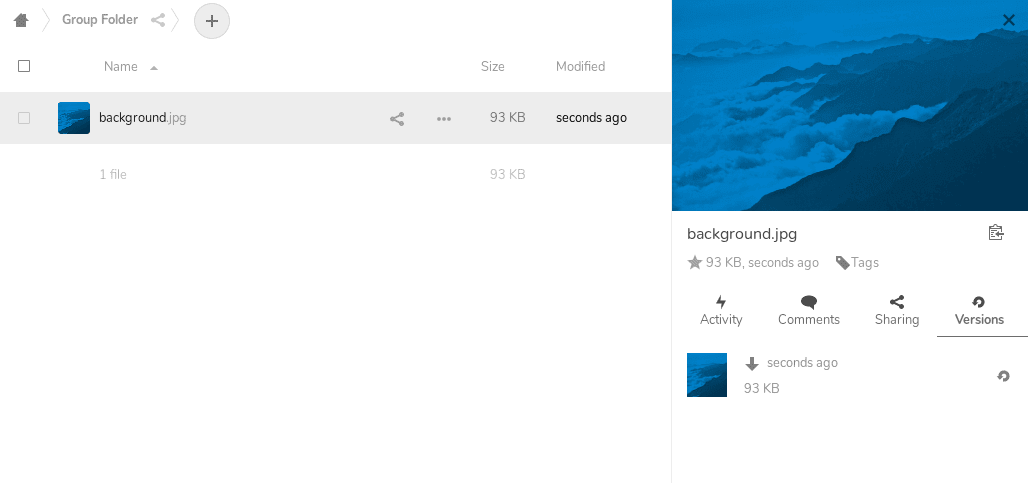 We hope you will enjoy the many improvements in Nextcloud 15! Find an overview of what has been improved in this series of blog posts: