I am running the following:
Nextcloud 26.0.1 on Ubuntu Server 22.04 OS.
Apache2 and PHP 8.1.
PC = ASUS PN51-E1-BB7000XTD1
CPU = AMD Ryzen 7 5700U Mobile Processor, 1.8 GHz (12M Cache)
LAN = Realtek RTL8125B-CG
RAM = 64GB DDR4 3200
Secondary Data SSD Drive = 8TB
Boot Drive = 500GB NVME Samsung 980
I upgraded from Nextcloud 26.00 to 26.01 and now I have a Missing index "fs_parent" in table "oc_filecache" error shown below:


Before installation I got the./occ upgrade message shown below: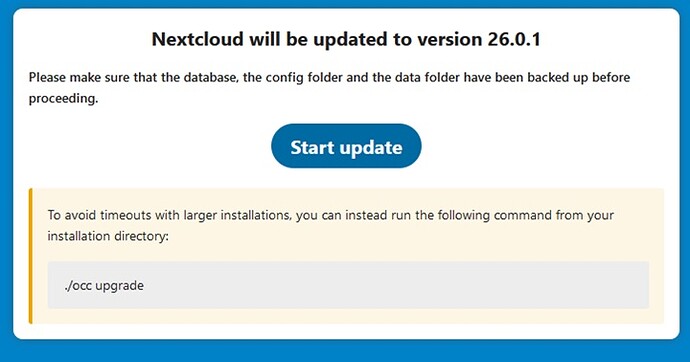 From a different post I found the steps below which says it will fix the problem. Can anybody in the community please help me modify Step #4 so it applies to my specific problem which is a Missing index Fs_parent in table oc_filecache.
Step #1
Open super user bash
sudo bash

Step # 2
Go to the NextCloud folder:
cd /var/www/nextcloud

Step #3
Run the following command:
sudo -u www-data php occ db:add-missing-indices

Step #4
And finally the prompt should show something like this:
Check indices of the share table.
Adding additional parent index to the share table, this can take some time…
Share table updated successfully.
Adding additional mtime index to the filecache table, this can take some time…
Filecache table updated successfully.
Any advice well be welcomed.