Originally published at: Meet the first open-source AI assistant that doesn't prey on your data - Nextcloud


AI technology has become too useful and accessible to ignore, so more and more users make the choice to sacrifice tomorrow's privacy for the sake of an excellent result today.
At Nextcloud, we believe that everybody deserves privacy. With Hub 6, we released the first open-source AI assistant that is hosted where you want it to be. It can get a multitude of tasks done inside your content collaboration platform without compromising your data: in content creation and collaboration, mail communication, team chats, and more.
Introducing Nextcloud AI Assistant
Nextcloud AI Assistant is a capable and versatile tool that enhances your work throughout Nextcloud Hub to keep writing, communication, and other productivity tasks simple and low effort.
Unlike other AI-powered content collaboration tools, Nextcloud doesn't share your data with a third party technology provider to train the core AI model. This means that all data you work with, including documents, emails, chats and more, stay yours.
How do we accomplish that?
We build the AI Assistant using a flexible, solution-independent approach which gives you a choice between multiple large language models (LLM) and services. It can be fully hosted within your instance, processing all requests in-house, or powered by an external service. This enables unmatched capabilities of language processing across various use scenarios with control of what is running behind your instruments and how. And importantly, you can have a 100% open-source assistant.
Nextcloud AI Assistant features are available in the main Hub navigation to help you with quick text tasks, and in several apps including Text, Mail, and soon Talk, for app-specific actions.
If you want to read about other AI tools available in Nextcloud, we welcome you to read the AI features overview or visit our documentation portal.
Quick access from your navigation bar
Whatever you are working on, Nextcloud AI Assistant is only one click away. Should you need any help with a small task like generating a headline, paraphrasing a text, or translating a sentence, just click on a ✨ icon on the top right corner of the main navigation and give the Assistant its input.
Language assistance in Text
With help of the AI Assistant, Text has you covered when it comes to perfecting your writing and text composition. The tool is available right in the text, freeing you from distractions and extra tab journeys.
Once you select a piece of text to get help with, summon the Assistant menu by clicking the ✨ icon next to the selected paragraph. You can get a summary of your text, generate an accurate headline, reformulate it, or translate it into another language. If you are happy with the result, insert it in your text in a simple click.
Thread summary in Mail
The Nextcloud Assistant summarizes bulky email threads for you, so you save a hefty amount of time when searching back in your conversations in Mail.
All given tasks, suggestions, and questions are displayed in a clear and concise way, so you get an accurate idea of the whole history of communication.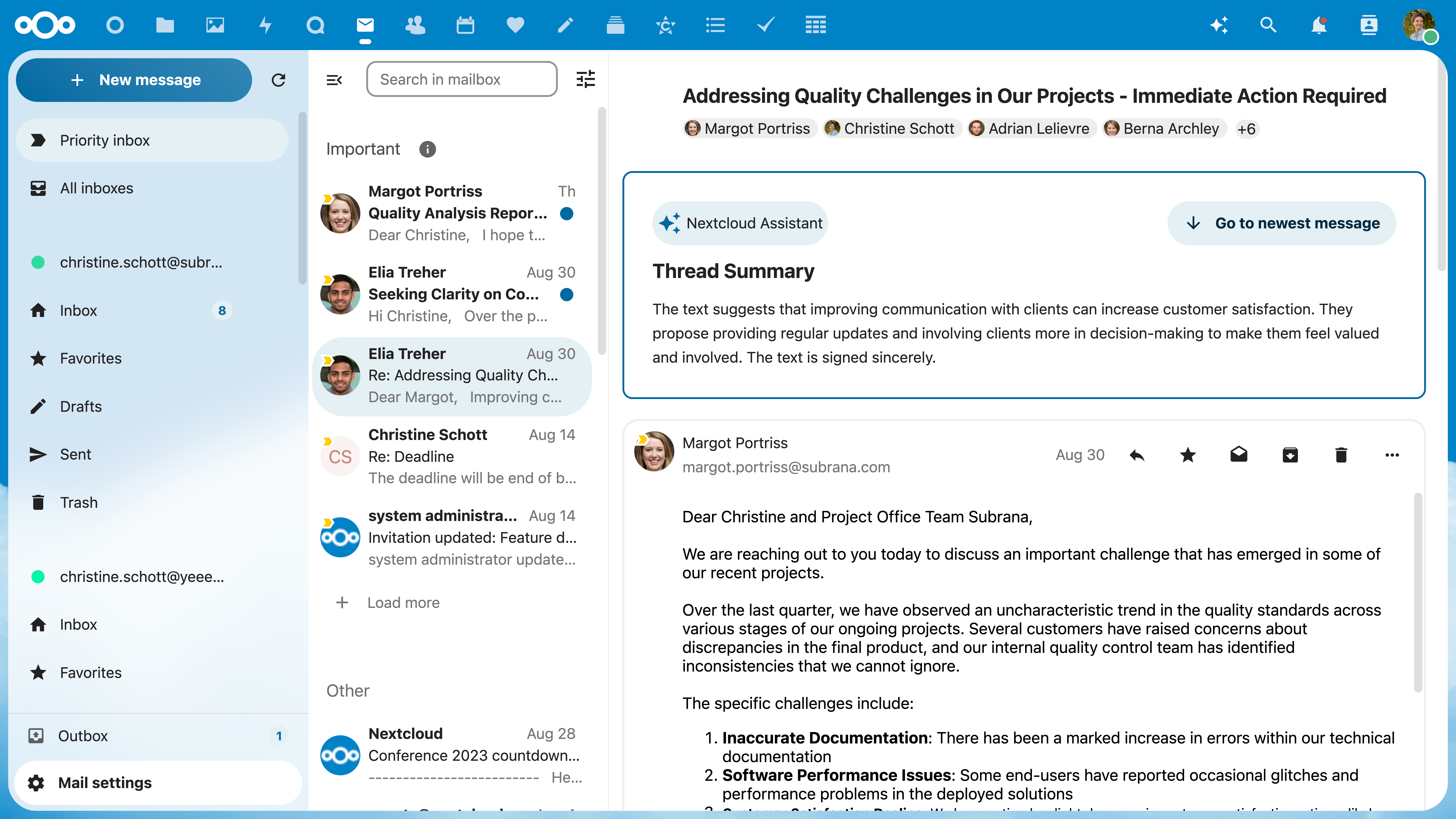 Need help with the answers? Summon the Assistant from the top toolbar to write a response according to your parameters or improve your writing.
Smart communication in Talk
In the following weeks, we are bringing the Nextcloud Assistant to Talk. Building as an intelligent chat bot, we designed it to augment your work conversations and help your team in brainstorming, planning, and clearly expressing ideas.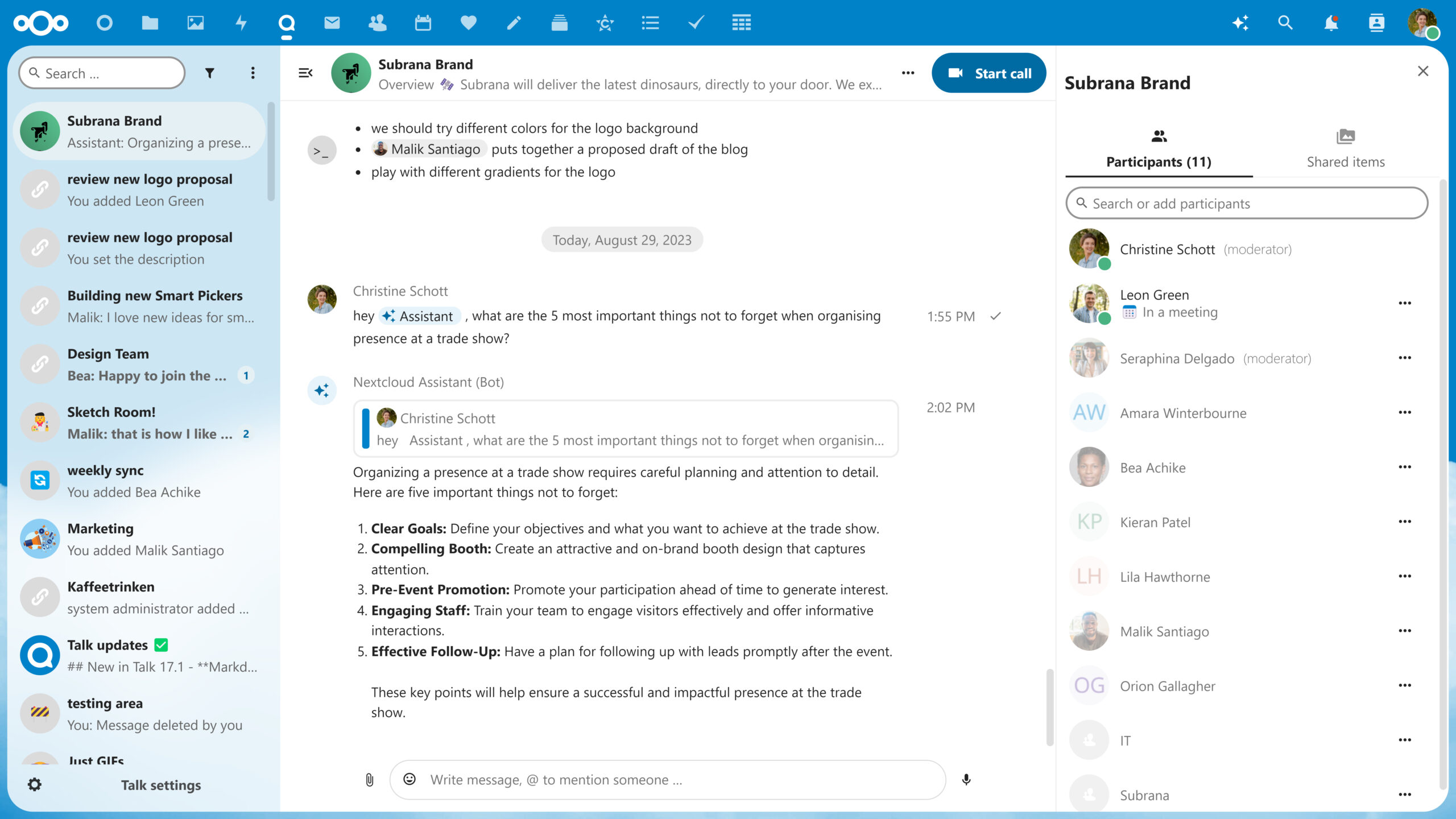 First and foremost, the Assistant will make sure your discussions flow freely with the ability to translate messages, write texts, and generate media as you chat.
However, we don't plan to stop there and we want the Assistant to become a real participant in the conversation. We are gifting the bot the ability to communicate with you in a most human way possible by answering your questions and providing helpful suggestions for the issues on your agenda. For example, you can ask the Assistant to outline an event preparation plan or to draft a marketing campaign for you using real inputs from your very tasks.
Processing data completely on your server
In everything we do, Nextcloud commits to transparency and trust. Working hard to combine comfort with responsible handling of your data, we made all core AI apps in Hub, including the Nextcloud AI Assistant, fully open-source and running locally on your server.
Your data belongs to you, and not a single bit of information is shared with a third party provider to improve performance, study user behavior, or train an AI model.
You may still want to use popular services like ChatGPT and Dall-E, and we are giving you the freedom to do so in Nextcloud. Before making your decision, you can refer to the Nextcloud Ethical AI Rating to find out more about how available AI apps in Nextcloud handle your data and estimate the risks related to code availability, deployment options, and access to training data.
The future: dedicated AI for public sector and more
AI is a quickly developing field. One technology that will be important going forward are text generation models optimized for specific tasks. One example is the public sector where employees are working with large amounts of complicated forms.
Together with the German state of Schleswig-Holstein Nextcloud is working to build a digitally sovereign AI model. Its aim is to accelerate the bureaucratic processes in the public sector with ethical AI-powered content collaboration tools.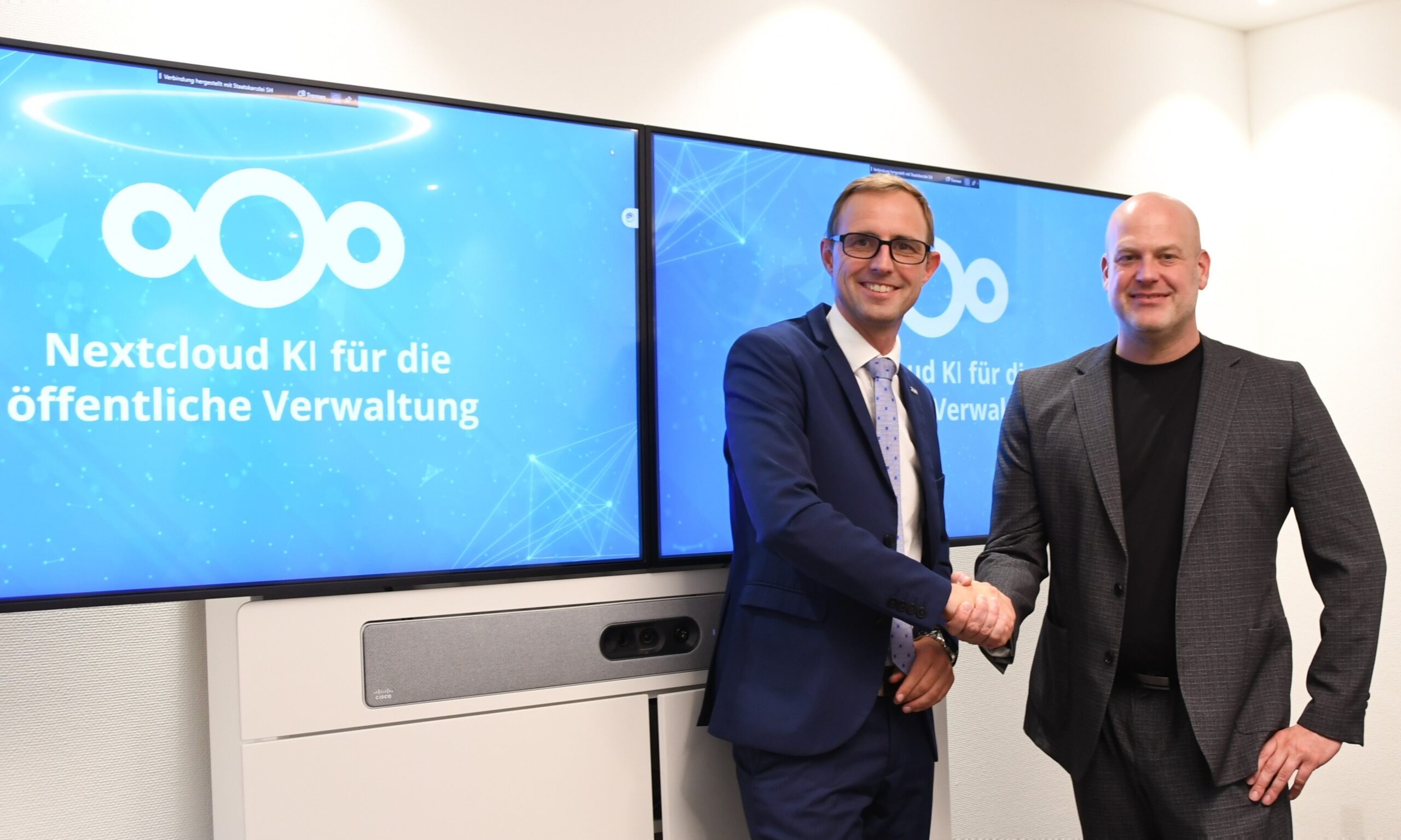 The project focuses on crafting a large language model tailored to the specific needs of the offices dealing with state affairs, namely creation of highly standardized texts using accepted language style and wording, optimized search of process-specific information, and other other tasks. Anonymized training data provided by the state will be used in its training.
The model in-the-making will be released as Open Source to encourage the adaptation of sovereign, ethical AI within the digitalization strategies of the governments.
There will be other fine-tuned AI models for Nextcloud appearing over the coming months and years, helping employees in all kinds of specializations with their tasks.