Originally published at: Learn more about Keynote Speaker Simon Phipps! - Nextcloud


Simon Phipps is one of our keynote speakers at the upcoming Nextcloud Conference.
Simon is a web and open source advocate often writing about key topics in Free and Open Source Software or FOSS.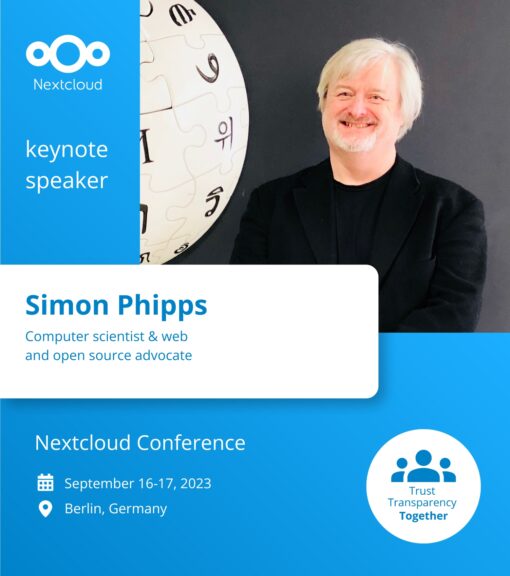 Today, we've asked him a few questions:
Simon, you've done hard core development, management, legal and arguably philosophical writing and if I dare say so, you seem to like to define things. So may I challenge you to define your recent activities?
My work currently aims to protect and develop the digital rights of individuals within democracies. I do that at OSI where I have been intervening around the European Commission's proposed Cyber Resilience Act, at AlmaLinux OS Foundation where I have been helping them develop community-led governance, as part of the UK's Open Standards Board and in a few other contexts
You've been involved in defining open source for a long time. And your various writings suggest you care deeply about personal freedoms and privacy. What would you say is the relation between privacy and open source?
I like to define open source as software that respects and enables the self-sovereignty of each individual. So I regard open source first as a key enabler for those wishing to build software that embodies self-sovereignty, and further as a critical indicator of an intent to accommodate self-sovereignty. When people abridge software freedom they are frequently careless of the rights of the users of their software. Open source is no guarantee – there are plenty of companies who enjoy the benefits of software freedom without extending them to their customers – but a willingness to lock anyone out (or in!) is a red flag.
You want to talk about the Fourth Sector, creators, if I may crudely summarize who they are. What made you think and write on this subject?
Legislators conveniently divide society into the commercial sector, the labour sector and the consumer sector. That's a natural consequence of the legacy of the industrial revolution. But with the advent of the Internet, people started connecting directly to each other, and that in turn allowed some to play roles that spanned all three of those sectors. The people and civil groupings who dare to engage socially and commercially across the prior three sectors are what I and others term the Fourth Sector. As I have engaged more and more with legislators I have realised they are failing to consider, much less consult, fourth sector actors and the activities they conduct, such as open source software. I'll be explaining these ideas in more depth at the conference.
Want to hear Simon's talk?
Register for the Nextcloud Conference in Berlin, September 16-17th!
About Simon Phipps
Simon Phipps is known for his time at Sun Microsystems, where he took over leadership of Sun's open source program and ran one of the first OSPOs. During this time in the 2000s, most of Sun's core software was released under open source licenses, including Solaris and Java (which he had previously worked on co-establishing IBM's Java business in the 1990s). When Sun was broken up in 2010, he was freed to focus purely on open source and dedicated time to re-imagining the Open Source Initiative (OSI) – the non-profit organization that acts as a steward of the canonical list of open source licenses and the Open Source Definition. Today Simon leads OSI's work educating European policymakers about the needs of the open source community. Learn more here.