Originally published at: Last update for Hub 3, plus Hub 4, 6 and desktop client - Nextcloud


Please update to 25.0.13, 26.0.7 or 27.1.3, plus – desktop client 3.10.1
As always, minor releases include stability and security improvements that are designed to be a safe and quick upgrade.
You can find the full changelog of fixes and improvements for these releases on our website. Some highlights include some LDAP and other user management improvements, minor improvements in Text, some UI fixes and many other small bug fixes.
Note: With 25.0.13 we are at the end of the road for Nextcloud Hub 3. Upgrade to Nextcloud Enterprise to continue to get security and stability updates or move to Nextcloud Hub 4 or Hub 6. Don't forget that running web-facing software without regular updates is risky. If no upgrade to 26 was offered to you yet, please check your PHP version! Nextcloud 25 was the last release still supporting PHP 7.4 (which also is unsupported for roughly a year now), so upgrading to PHP 8.x is necessary. Please stay up to date with Nextcloud releases of both the server and its apps, for the safety of your data! Customers can always count on our upgrade support if needed
Note²: PHP 7.x is no longer officially supported by the PHP community. Nextcloud has supported PHP 8.0 and newer versions for some time now, and we strongly recommend you move to a newer version of PHP. Version 8.0 is already out of active support (!) and has only a few months of security updates left. Nextcloud Hub 3 (25.0.x) deprecates PHP 7.4 but still works with it. We recommend you use PHP 8.1 or newer. Hub 4 and newer support PHP 8.2.
Desktop Client 3.10.1
In other news, the Desktop Client team pushed out a minor release, 3.10.1, fixing a small number of bugs and minor issues. You can find the full changelog here. Improvements include a fix for chunked upload.
WARNING: This version is known to crash on legacy (no longer maintained) releases of macOS. We have raised the requirements at install to macOS 12+. In the future we may be able to lower the requirement back to 11+, however we of course strongly recommend against running unsupported (and thus likely insecure) versions of Mac OS or any other software.
We had some delays in the release due to build changes and another minor release might already come relatively soon.
Ready to move to Nextcloud Hub 6?
Watch our Hub 6 launch video!
Nextcloud Hub 6 was released 2 weeks ago and we recommend that you check it out to see if you can benefit from its latest features. A quick summary:
💡 100% local, private AI assistant that can summarize your mail threads and help you write, translate, dictate and more
🗣️ Show speaking time, 1 hour call warning for a healthy meeting culture
🔔 File, chat & mail reminders so you don't always have to JUMP immediately on what's new
🤖 Bots in Talk to help you summarize meetings and bring content from other tools in Talk
🗃️ New file selector to make navigating your files easier, and updated share flow to simplify sharing
✨ NEW: developers can now write apps in ANY language, not just PHP!
➕ Much, much more!
Check out the full release announcement here.
Note that the AI features are, of course, optional – and updating is easy as Hub 6 is built on the same foundation as Hub 5, not requiring any heavy migrations.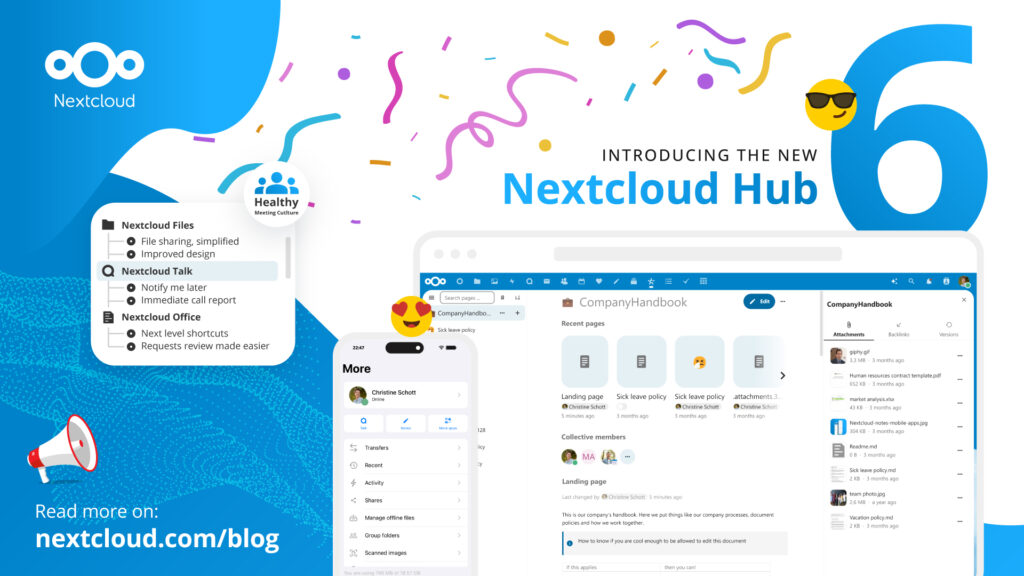 Stay safe: keep your server up-to-date!
Minor Nextcloud releases are security and functionality bug fixes, not rewrites of major systems that risk user data! We also do extensive testing, both in our code base and by upgrading a series of real-world systems to the test versions. This ensures that upgrades to minor releases are generally painless and reliable. As the updates not only fix feature issues but also security problems, it is a bad idea to not upgrade!
If you are maintaining a mission-critical Nextcloud system for your enterprise, it is highly recommended that you get yourself some insurance (and job security… who gets blamed if the file handling system isn't working as expected?). A hotline to the core Nextcloud developers is the best guarantee for reliable service for your users, and the job safety of you as a system administrator.