My approach over the last couple of weeks to setting up my personal cloud server has evolved, so I'm writing this post to start with a clean context and get feedback on if my new solution is valid or not.
I have a linux desktop/server and a windows laptop. I want my desktop /home/david/work folder and my /user/david/work laptop folder to be in sync, and also available to share or link through the nextcloud web GUI.
I though this would be fine. I had my /home/david/work folders mounted to my nextcloud server through the external folders apps, and therefore could access them through the web gui portal no problems. BUT, I began to run into problems with the syncing between the laptop and desktop.
I was then told that even though I was not directly manipulating folders or files that were inside the /var/share/www/nextcloud folders, manipulating the /home/david/work folder was still a problem. NextCloud is designed so that you don't directly access the files.
So my solution is this: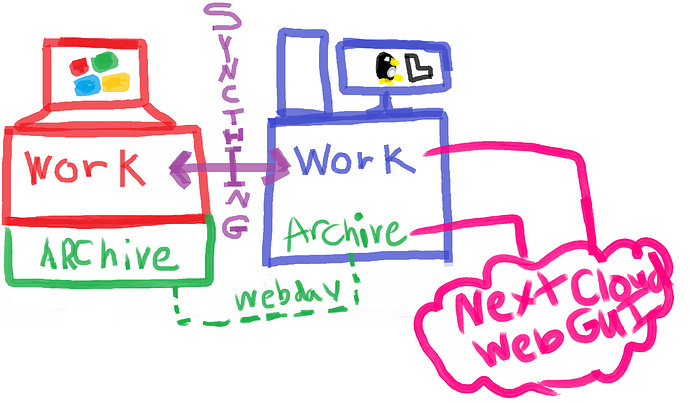 I could sync the laptop /user/david/work and the desktop /home/david/work using Syncthing, and then have those files made accessible for sharing etc to the web through NextCloud by mounting the /home/david/work folder to NextCloud using the external folders application correct?
The web front for NextCloud would sometimes be a little out of sync with the actual files, because changes made on the laptop would have to sync through syncthing to the desktop/server and then a cronjob on nextcloud would have to run in order to reindex the changes that had been made to those folders, but otherwise, it should basically work, right?
I've been having some trouble getting Syncthing to work but I think I've figured out the problem on that end. I just want to make sure I'm understanding fully the limitations of what I can do with NextCloud.