Originally published at: Introducing the Nextcloud and Mattermost Integration! - Nextcloud


Nextcloud and Mattermost are officially integrated – meaning you can now use both platforms together to share files securely and collaborate more efficiently.
The integration makes it possible to share Nextcloud Files to a specific channel in Mattermost. Simply upload a file directly to a channel or send a shared link to collaborate with colleagues, friends, or family.
Nextcloud is a popular collaboration platform and bringing our two platforms closer will give a productivity boost to teams in a range of use cases.
We aim to satisfy all our customers needs, so when Mattermost had an influx of its customers using Nextcloud, we knew we needed to join forces to provide a stronger user experience.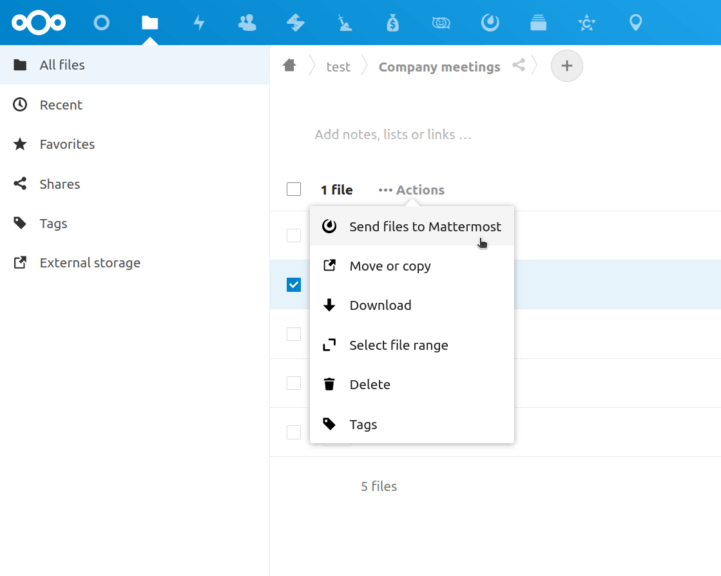 What is Mattermost?
Mattermost is an open source, self-hostable online chat service with file sharing and search. Their platform is often used for developer collaboration and includes channels, playbooks, and boards among other tools, plugins, and of course integrations.
Just like Nextcloud, Mattermost attracts a large community of contributers due to our similar missions for providing secure, on-premises platforms for collaboration.
Mattermost is a versatile player in the collaborative chat world, with a variety of customers seeing integration between the platforms. Our shared values of open source, trusted, self-hosted technology make an integration an obvious move.
Use cases
This integration can be used in many ways to improve workflows and simply make it easier if you have a team or customers that uses both platforms.
For instance, say you are planning a company event like a picnic. You are chatting in your team's Mattermost channel and talk about the details. A colleague has last year's staff dietary restriction's document stored in her Nextcloud and wants to share it in the same channel for sake of simplicity and convenience. All she has to do is install and setup the Nextcloud-Mattermost integration, and it's as easy as a few clicks.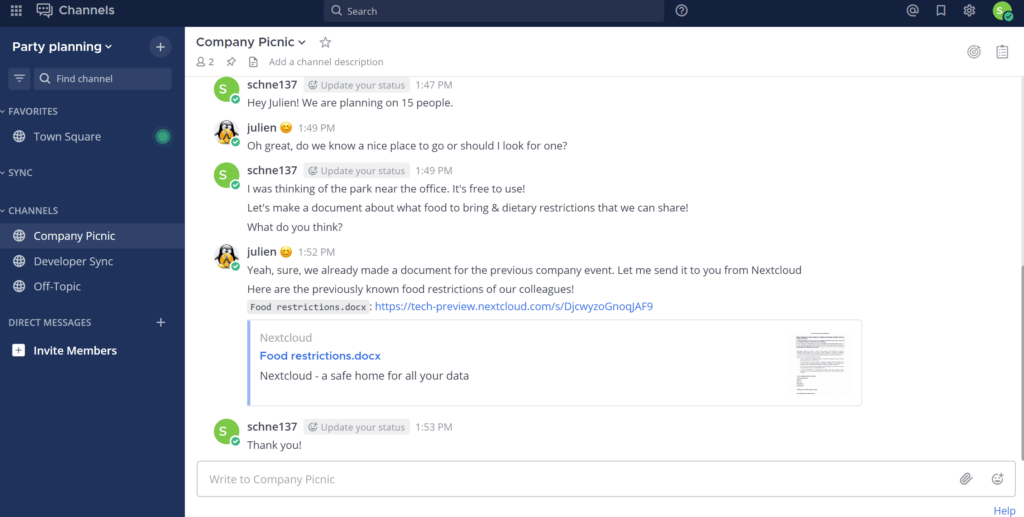 How to setup the integration
First, you need to install the Nextcloud-Mattermost integration. You can find and install the integration app directly in Nextcloud's app settings.
Now in your Nextcloud instance, go to Files and select one or more files you would like to share directly to Mattermost. Then click "Actions" or the 3-dots icon and you should see an option to "Send to Mattermost."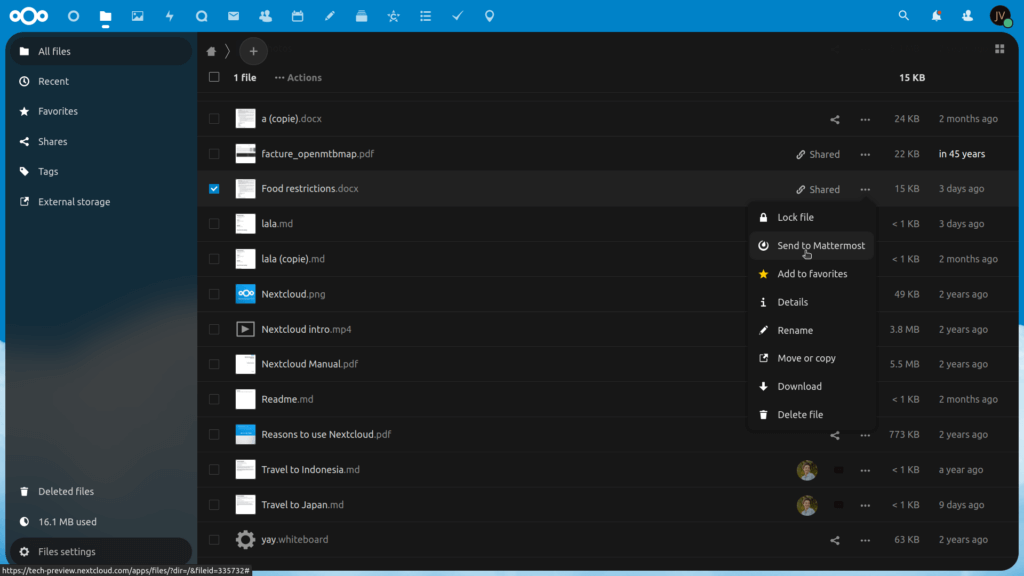 Click on "Send to Mattermost" and since it's the first time, you will have to go through a few simple steps to connect, login, and authorize Mattermost.
1) First, click on "Connect" (to Mattermost).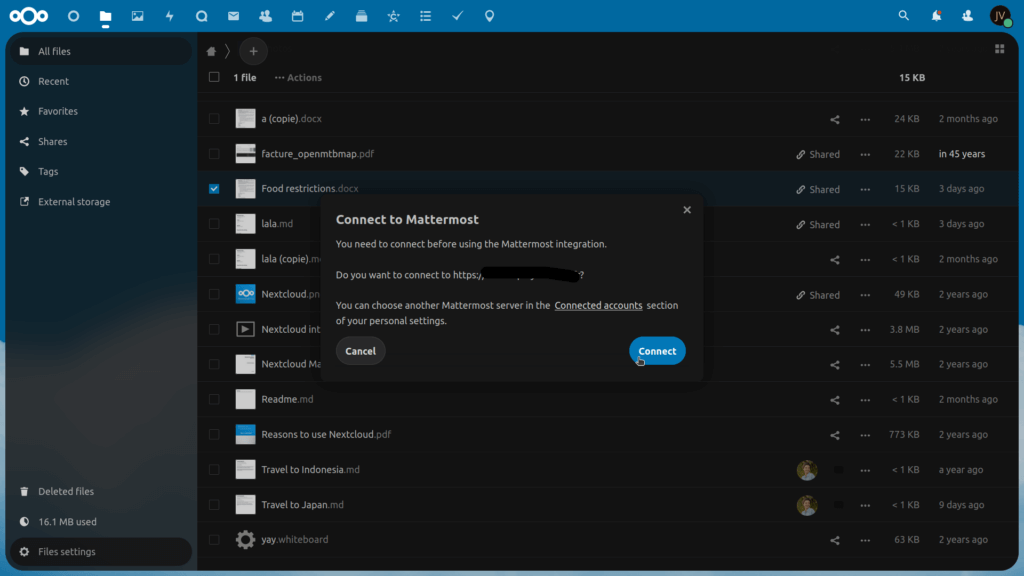 2) Next, login to your Mattermost account or create a new account in the pop-up window.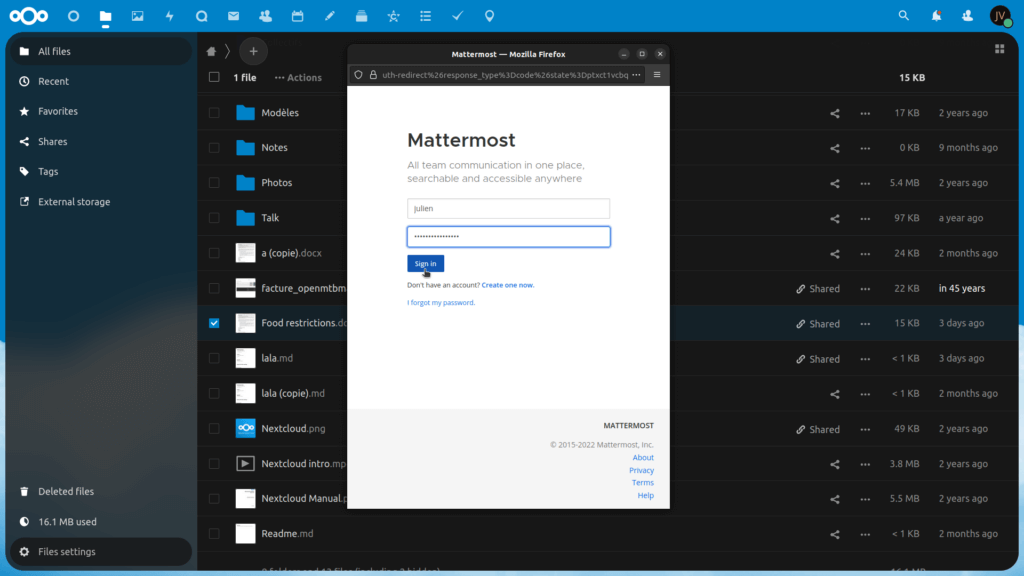 3) Then, click "Allow" to authorize the Nextcloud integration app to connect to your Mattermost account.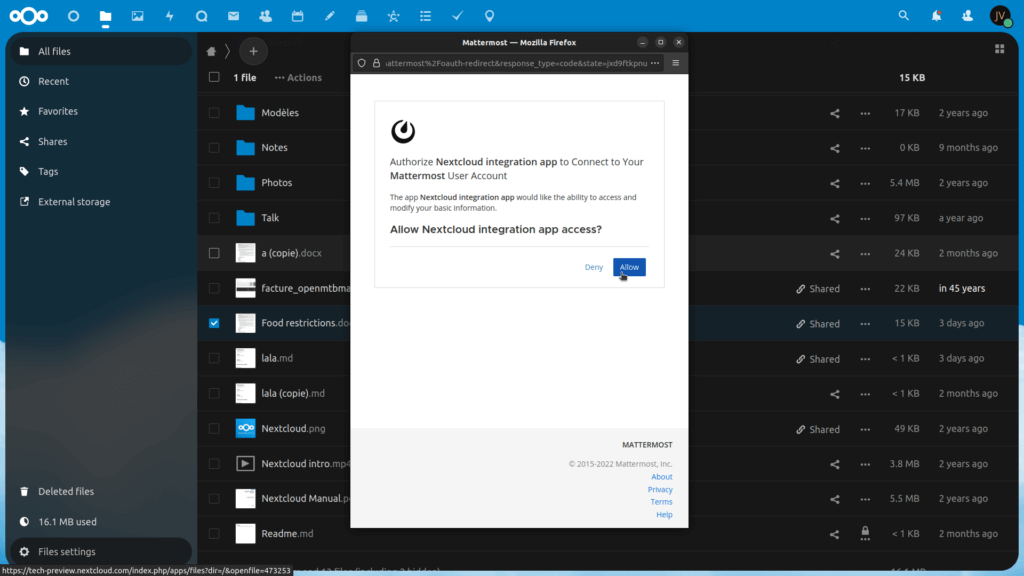 That's it! You've now synced accounts and are permitted to send files from Nextcloud to Mattermost.
Now in the new pop-up window, you will have several options available.
Choose the channel you want to send the file to
Decide whether you want to upload file(s) or use a public link with the option to view only or edit
You can also enable setting an expiration date and/or a link password.
In addition, you can add a comment.
Finally, click "Send link" and you should see it in your Mattermost channel.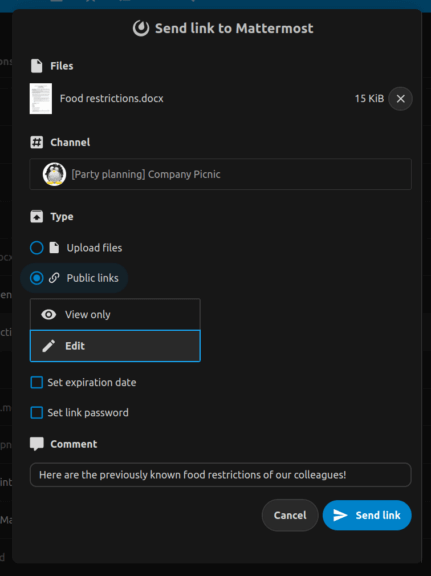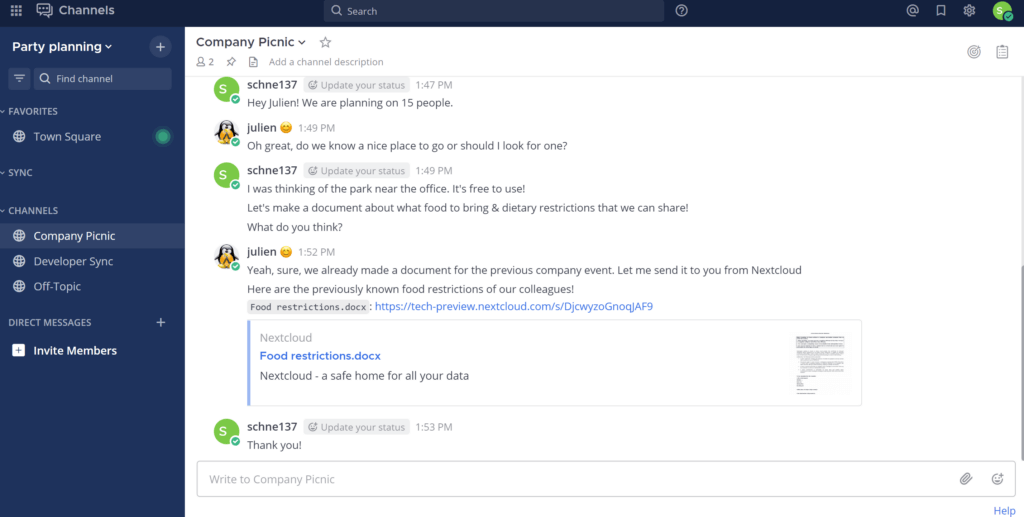 That's it! You've sent your first file from Nextcloud to Mattermost.
Now anytime after this initial setup, it will be very simple to share your Nextcloud Files through Mattermost.
---
We hope you enjoy and make use of this integration, so you can speed up your productivity and instill smooth workfows, all the while using the collaboration platforms you choose and love.
So, if you're a Mattermost user or just want to try it out, definitely go to the Nextcloud App Store and get this integration today!