Originally published at: Introducing procilon Group, our privacy & security-oriented partner! – Nextcloud


Meet procilon Group
The procilon GROUP specializes in the development of cryptographic security-software 'Made in Germany'. Using Cloud-based security components, procilon can provide various options of electronic signatures and services. That includes eIDAS-compliant qualified remote signatures, end-to-end data encryption and secure Identity- & Access-Management. Thus, procilon cloud services complement industry-specific applications and customer portals with cryptographic elements for a security-driven user experience.
What procilon has to offer
procilon has developed a large number of cryptographic software modules in-house, also an architecture that breaks its elements down into directly applicable, efficient and scalable services and implements them on a cloud platform to make these elements accessible to a broad spectrum of users
Thus, security elements such as qualified electronic signature and time stamps, remote signature as well as strong encryption were integrated into Nextcloud. These components prevent media disruption and make legally compliant digital processes possible.
When it comes to security, customer requirements can be very specific. By combining the flexible nature of Nextcloud, powerful encryption and our authentication technologies, customer needs can be satisfied!
The possibility of using individual or multiple cryptographic services in conjunction with Nextcloud opens the opportunity for software developers to completely rethink many application scenarios. For this, no additional cryptographic skills need to be acquired apart from technical competence. procilon supports developers with a tailor-made workshop offer.
In general, the procilon technology follows the basic principles for electronic signatures according to the 'EU regulation on electronic identification and trust services for electronic transactions in the European Single Market. This ensures a high level of portability, interoperability between systems, sustainability in the European market and beyond.
Over 1500 organizations trusting procilon Group
More than 1500 companies and organisations have trusted their sensitive data to procilon, for example, the eIDAS trust service providers German Association of Notaries in Berlin and the German Health Network in Düsseldorf.
Through open and transparent development processes based on a strong awareness of security and privacy technologies, Nextcloud is the ideal partner for us. This applies to the wide range of integration options and the strong focus on user-friendliness.
In the context of secure judicial communication, procilon solutions are the central security and communication platform for more than 8,000 notary's office workstations. Besides, procilon was commissioned by the Federal Ministry of Justice to maintain and further develop the electronic directory service SAFE (Secure Access to Federated e-Justice/e-Government) for secure identity & access management.
The multi-channel security platform proGOV is used by more than 550 city administrations, counties and municipal data centres as well as more than 400 energy suppliers for encrypted communication.
Data sovereignty has become increasingly important for organizations in operating in every industry or sector.
In order to maintain security and control over their data, some customers have already made their own decision for Nextcloud. So, they feel confirmed when we consolidate the existing infrastructure with procilon security technologies and use it ad hoc.
The security architecture of procilon
For the entirety of procilon technology, vertical security services and functional user interface (UI), procilon has formulated a basic security architecture, called pESA – proTECTr Embedded Service Architecture.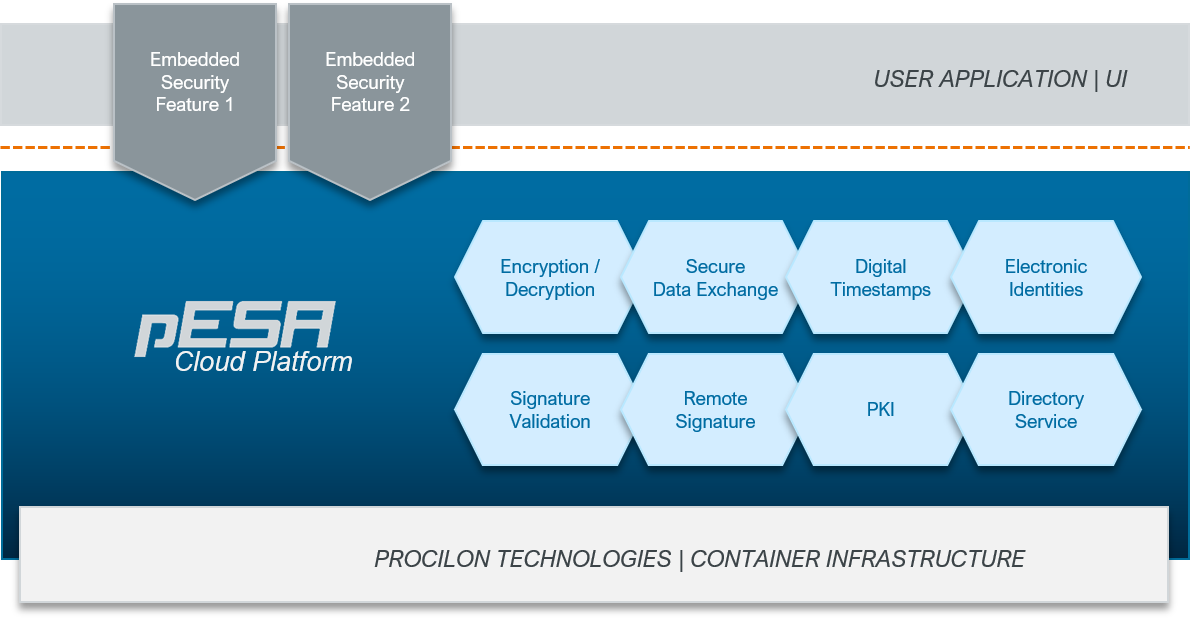 In addition to the services directly integrated with Nextcloud, such as a remote signature or timestamps, pESA offers further possibilities for using a Public Key Infrastructure or a directory service.