Originally published at: Hub 5 announces new and upgraded integrations for Teams and Outlook - Nextcloud


Today, as we proudly unveil Nextcloud Hub 5, our latest edition of the open-source, self-hosted collaboration platform, we're happy to include a launch of two highly anticipated beta programs. These beta programs will focus on the integration of Microsoft Teams and Microsoft Outlook with Nextcloud Hub.
In addition to these newly announced beta programs, we would like to remind you that the registration for our other beta program for the Nextcloud Exchange Connector is still open. If you are interested, you can sign up here.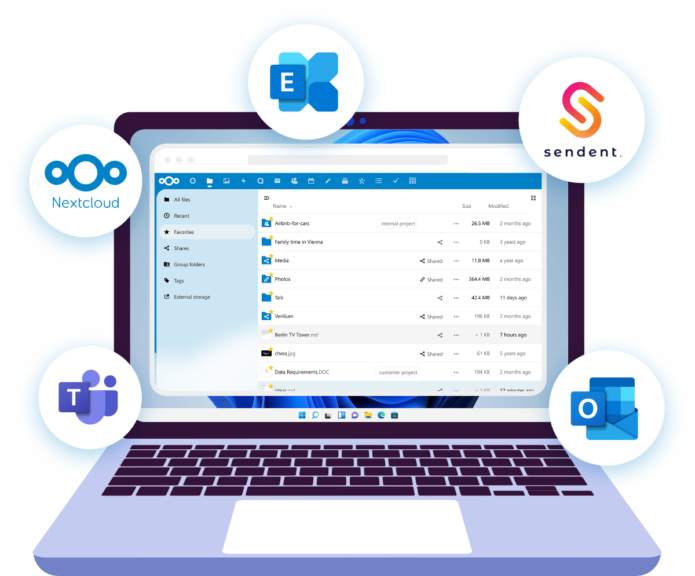 Beta Program for Microsoft Teams Integration
As part of our Hub 5 launch, we are introducing a beta program centered on sharing files from your Nextcloud server within Microsoft Teams. This functionality will extend across multiple platforms, including Windows, MacOS, web, and mobile devices.
For regular users of Nextcloud and Microsoft Teams, our partner, Sendent, will provide a copy for testing, eagerly awaiting your invaluable feedback.
Beta Program for Microsoft Outlook Integration
Today's launch also brings news of an upcoming beta testing for the Outlook add-in, designed to work on Web, Mac, and Windows 365 platforms. Renowned for its secure file sharing and email sending capabilities, the new add-in from Sendent will connect directly to your private cloud instance on Nextcloud, where your data is stored securely.
As with our Teams integration, we invite regular users of Nextcloud and Microsoft Outlook to test this new add-in and share their insights with our partner, Sendent.
Who Can Participate?
We warmly welcome all users, sysadmins, and developers to participate in either or both of these exciting beta programs. As a beta tester, you'll have the opportunity to play a crucial role in shaping the future of these integrations.
We may refine the selection of beta testers based on the level of interest and the need for close collaboration during these beta programs. To register your interest and join these thrilling opportunities, please visit the forms on the Sendent website via the links in this article.
Requirements for Beta Testers
If you're interested in joining the beta program and testing the Teams integration, you'll need the following:
A Nextcloud server;
Microsoft Teams with administrative rights for installation (for the Teams integration beta);
Microsoft Outlook for Web, Windows, or Mac (for the Outlook integration beta);
Familiarity with Docker containers and proxies.
Not Ready to Participate But Interested?
If you're not quite ready to dive into beta testing but want to stay updated, we've got you covered. By subscribing to our newsletter, you can receive regular updates, news, and gain first access when the Microsoft Teams and Outlook integrations with Nextcloud Hub are released.
Today's launch of Nextcloud Hub 5 and the announcement of these exciting beta programs mark a significant stride in our mission to revolutionize secure communications and file sharing. Register for our beta programs today, and join us in shaping the future!