Hi!
I am using Mail 1.8.0.
As i see on Github, Mail is support HTML signature.
But how to set it?
I tried it in Account Setting -> Signature -> set to <b>TEST</b>.
Nothing happend, send the HTML as text.
Here is a picture from an email sent from Mail to my Thunderbird: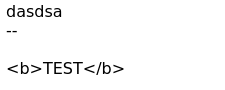 Thanks!