Continuing the discussion from Love Nextcloud - hate this Forum design!:
Frustrated with your default Forum Layout? Good News!
You actually do have control over how content in the forum is displayed for you. You can toggle a cleaner list of posts, without categories, by clicking here:
https://help.nextcloud.com/my/preferences/interface/
All user accounts default to Categories view.
Other selectable options for your Default Home Page include:

Latest - https://help.nextcloud.com/latest
Latest Replies to Topics.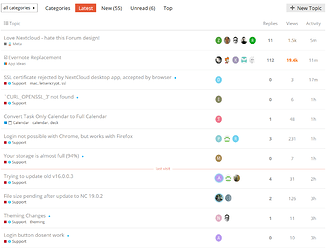 New - https://help.nextcloud.com/new
Topics you haven't read before

Top - https://help.nextcloud.com/top
Topics sorted by popularity over a week, month, etc