Hi everyone !
A colleague told me that our Workspace app doesn't work with a proxy.
He investigated on the subject and he found one difference between the other apps and our own : a slash at the end of the url :

When he added a slash for our app, it worked !
before

after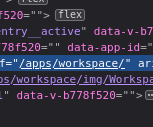 Here is the <navigations> part from info.xml :
    <navigations>
        <navigation>
            <name>Workspace</name>
            <route>workspace.page.index</route>
            <icon>Workspace_white.svg</icon>
        </navigation>
    </navigations>

And I compared with other apps :
I don't see the difference between my app and them.
There is the Spreed app use the boot function to register the navigation link : https://github.com/nextcloud/spreed/blob/0eeec23d49a354dcc23c0ec40cb0cd58e0823c8f/lib/AppInfo/Application.php#L348-L364 .
But, I reproduced the same code and I don't get the slash at the end of the url for my app.