Originally published at: German state & Nextcloud build digitally sovereign AI for public sector - Nextcloud


Nextcloud's momentum continues strongly after last weekend's announcement of the first private AI assistant embedded in its collaboration platform, with a first significant partnership announcement. As covered in the prominent German public sector-focused Tagesspiegel newsletter, Minister of Digitisation and Head of the State Chancellery Dirk Schrödter, and Nextcloud Founder and CEO Frank Karlitschek shook hands last Tuesday, on a collaboration to build digitally sovereign AI. As part of the AI strategy of the German state, the collaboration will create a generative language model for the state administration that is adapted to the specifics of administrative texts.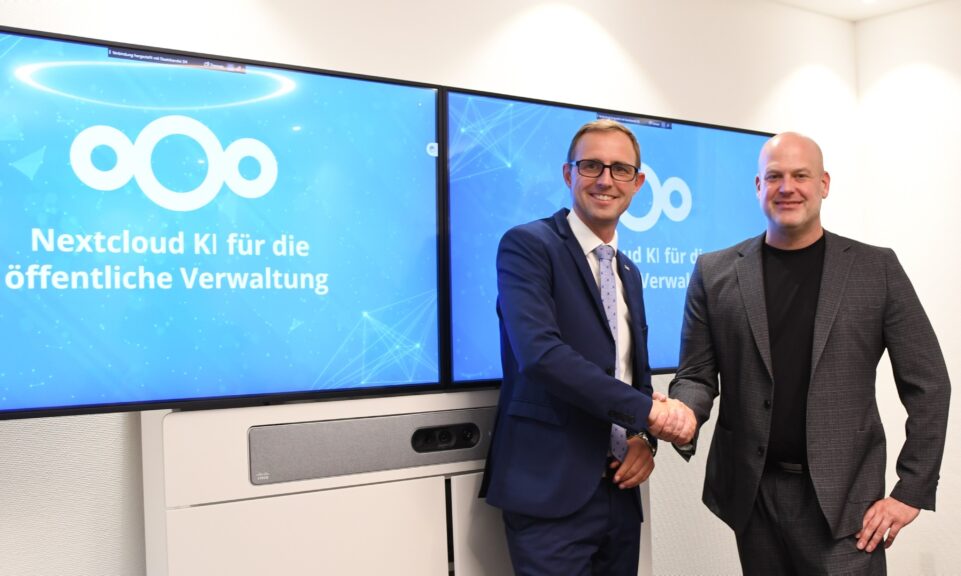 Opportunities and risks around AI
As Margrethe Vestager aptly remarked, "With artificial intelligence, trust is a must, not a nice-to-have." The evaluation of AI should focus not only on its technology but also on its societal and environmental benefits.
The public sector across the EU faces questions around AI with regard to digital sovereignty and data leaks. The latest technologies enable AI's to access troves of documents and then answer questions from them or generate content out of them. These functions would allow great advances in the speed of handling bureaucratic processes, but current solutions require large swaths of data to be handed over to third-party AI providers. This creates unacceptable risks for the digital sovereignty and security of government data. A digitally sovereign AI is needed.
AI strategy and Nextcloud at Schleswig-Holstein
The German state of Schleswig-Holstein has made a strategic bet on Nextcloud's on-premises content collaboration platform as part of its focus on digital sovereignty. The latest developments by Nextcloud in the area of ethical AI align strongly with the state's commitment to digitization of its services. As one of the most innovative states in Germany, it is aiming to dramatically accelerate its bureaucratic processes so that, for example, the approval process for wind turbines or other economic developments can move forward much faster.
In the future, we will make AI services available to colleagues in the state administration directly at the workplace. We want to drive the development of digitally sovereign and open solutions in addition to the use of existing AI services such as ChatGPT. Because, the administration of the future will work in an automated, algortihmized, cloudified and data-based way. To make this vision of the future a reality, we must provide the appropriate tools. This also creates value and jobs in our domestic digital economy.

Minister of Digitisation and Head of the State Chancellery Dirk Schrödter
The plans: digitally sovereign AI
As the Minister points out, AI systems like ChatGPT are already integrated in Nextcloud and used at the state. For some limited use cases, these can be useful.
But Nextcloud has also integrated several open source large language models that can be run locally. These were released as part of Hub 6 last weekend, providing an integrated, private AI Assistant that can summarize, translate, or reword texts, summarize email threads, transcribe video calls, create project plans and so on. Hundreds of organizations in the private and public sectors are expected to deploy these in the coming months.
The next step for Nextcloud will be to develop large language models that can help in specific domains. This way, the Nextcloud AI Assistant will be able to help write specific government documents, answer questions about state processes, and so on, in the style and language used in the government.
Based on Nextcloud Hub, the State Chancellery will expand its current approach to providing artificial intelligence-based services at the workplace. Embedded in the state government's AI strategy, Nextcloud and the State Chancellery will create a generative language model for the state administration that is adapted to the specifics of administrative texts. For this purpose, the state of Schleswig-Holstein will make anonymized training data available. The model will be available as Open Source.
Schleswig-Holstein and Nextcloud recognize that Europe needs reliable AI technology that protects Europe's economic and digital sovereignty. Our strategic initiative will lead to the first digitally sovereign AI that can deliver insights based on sensitive government data, without the risk of third-party access.

Frank Karlitschek, Founder and CEO of Nextcloud
The future
The use of AI in the public sector comes with strict privacy, security, and digital sovereignty requirements. Together with Schleswig-Holstein, Nextcloud will develop local, private, digitally sovereign AI technology that can deliver on these needs, 100% open source and able to run locally.