I have found several posts regarding time zone problems with Nextcloud, but none of them exactly match what I'm finding.
Nextcloud 20.0.4
Apache 2.4.38
Debian 10
My server clock is set to UTC and my timezone is set to my local time. I have verified that my OS time shows properly.
When I upload files to Nextcloud, if they were created WITHIN DST (i.e. their creation date is between DST (daylight savings time) start and end) then their time is 1 hour in the future. If their create date falls outside of DST then their time is proper.
I have verified by taking two old files from my Windows and logging into Nextcloud and uploading them. When I look within Nextcloud at their date modified, the file created within DST shows the wrong time. This is also refelcted if I access the files via WebDAV.
This is a screen shot of my files in Windows:

These are scree shows from Nextcloud where I have selected to view the file details of each of the two files. I have put the screen shots together into one file.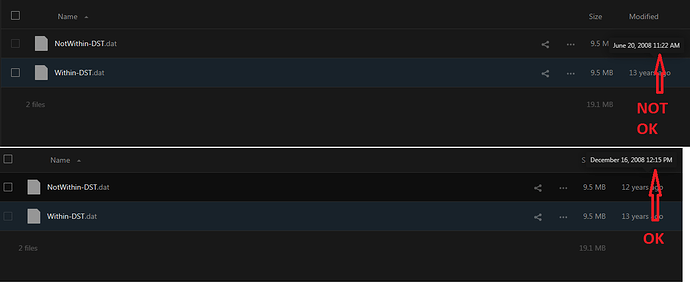 To be clear, this does not have to do with when the files with UPLOADED to Nextcloud. It has to do with their original dates they were created, wherever that was.
This presents a big problem when I am using WebDAV and utilities to sync folders based on file date/time.
I have the same problem if I use external storage - when viewing file details within next cloud that reside on external storage their time is off (ahead) by 1 hour if the file was created during DST dates.
Also, when I am running these tests, we are NOT in DST (it is January).
Is there a configuration I need to change?
Thank you.