Originally published at: https://nextcloud.com/blog/eu-governments-bet-on-nextcloud-to-replace-sharepoint/


Privacy and compliance conscious government organizations won't be forced in the cloud, settle on on-premises solution that protects independence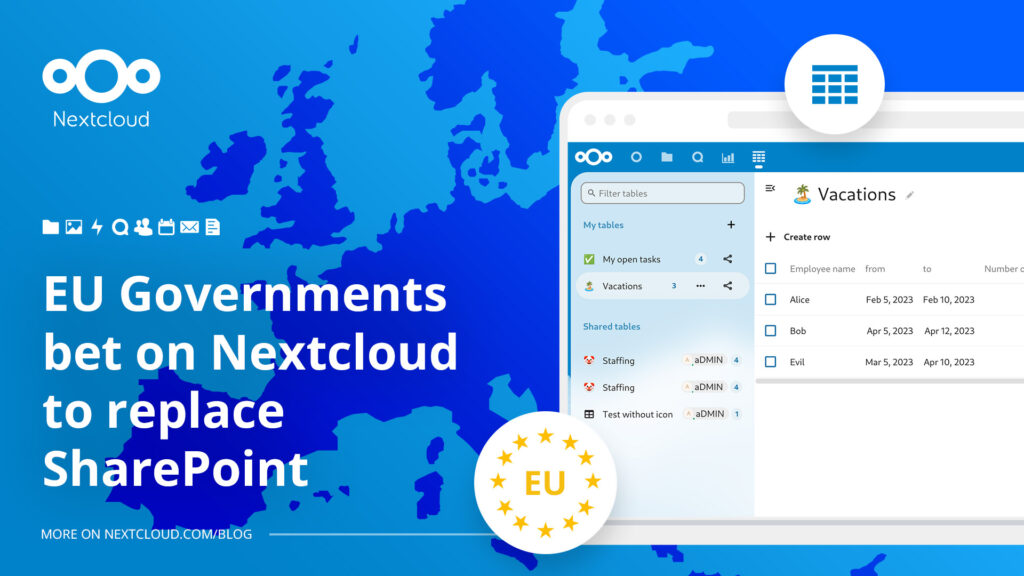 Proprietary SaaS plaforms like Sharepoint and MS 365 have become major cash cows, and on-premises solutions get discontinued across the tech sector to force customers into vendor-locked clouds. Organizations dealing with critical or sensitive data respond by looking to maintain their strategic autonomy by deploying on premises solutions. In collaboration with a number of European government organizations, the market leader in the open source, on-premises collaboration space today announces the expansion of it's offering to provide a full SharePoint replacement, complete with migration services. Showing the strong trend towards digital sovereignty, the announcement comes shortly after the highest EU Data Protection authority, the EDPS, announced they deploy and recommend Nextcloud.
We believe that development based on real world requirements and demand, rather than a strategy of forcing customers into a vendor lock-in, results in better products. Demand for an open, on-premises structured data platform as part of Nextcloud has been huge, and several customers have already signed up to deploy our technology.

Frank Karlitschek, CEO and founder of Nextcloud GmbH
The imminent end of SharePoint Server support has created a huge demand for solutions that offer similar functionality without compromising user control over data and meta data. The risks around data sovereignty and vendor lock-in is particularly pronounced for government agencies, many of which for reasons of autonomy, cost and compliance, tend to rely on on-premises tools for collaboration and document management.
A number of customers from the public sector has worked with Nextcloud to integrate a structured data management application into Nextcloud Hub. German state Schleswig-Holstein already announced their intention to replace SharePoint with Nextcloud in 2020 and since then several government organizations have already committed to the platform. Even more are providing feedback and information on their requirements with an eye to adopting Nextcloud as their on-premises SharePoint replacement.
Nextcloud's initiative to offer a digitally sovereign, open-source alternative to Microsoft Sharepoint is to be welcomed. That's why we work together with Nextcloud to optimize Nextcloud Tables.

Ralf Sutorius, Leitender IT-Architekt, Stadt Köln
Nextcloud Hub is well established as collaboration platform, providing easy document collaboration and sharing for teams and work groups, as well as integrated knowledge management. The introduction of today Tables rounds the platform out with management of structured data. It allows customers to build, manage and work with data structures, putting together easy 'apps' and connecting them to various other components in Nextcloud for automation.
Users will be able to create a table to track any other type of data that is relevant to their organization, such as expenses, projects, or sales leads. The flexibility of Tables allows users to tailor the table to their specific needs.
The first release of Tables is available now on the Nextcloud app store.