Hello everyone,
I've had the Passwords app installed on our Nextcloud server for a long time and I also use it in Edge without any problems. Now I have distributed instructions to all users asking them to use the PW Manager. Unfortunately, several (not all) users now have the problem that the Edge AddIn works without any problems immediately after setting it up. But after a restart nothing works anymore. Either nothing is displayed anymore or the passwords cannot be inserted.
Here are two pictures of it.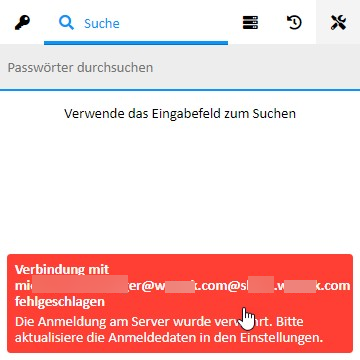 I see the following errors in the Nextcloud log.

However, LDAP actually works without any problems and I can query every user as a test. Here are the LDAP settings. I have already checked the user and password.

I did the test a few minutes after the error messages in Edge and in the log.
Does anyone have any idea what this could be?
We log in via SAML SSO and simply check whether the user is created in the AD.
I have the following versions
Nextloud 27.1.3
Password 2023.10.30
PHP 8.2.12
Ubuntu 22.04.3 LTS
Thanks and greetings, Sascha