Hello,
I'm having next problem:
Last two days I have problem with disk space. For some reason, nextcloud is making backup files in
/var/lib/docker/volumes/nextcloud_aio_nextcloud_data/_data/appdata_oct8r8802yha/backup folder.
Using sudo ncdu -x / I located problematic folders: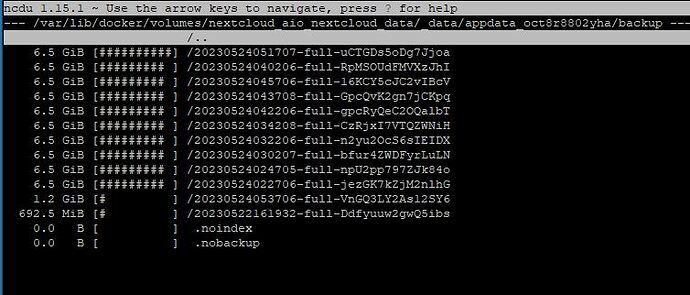 In the backup folder, there are a bunch of folders that take 6.5 GB each and they fully fill my SSD.
If I erase them, they are recreated again and my nextcloud is not working as there is no space on SSD.
My setup of Next cloud + all my files is somewhere around 12GB. This backup folders took everything else.
How to permanently delete this backup folder and disable this option?
This is very annoying problem!