Hello, I have a problem with syncing adressbooks of 1 NC user with macOS Sierra and OSX Lion (nextcloud 12.0.4) . Don´t know if the problem existet in former versions. Just createt 2 new Adressbooks yesterday.
I use this CardDAV link: https://mydomain/remote.php/dav/principals/users/USER/
Screenshot from NC: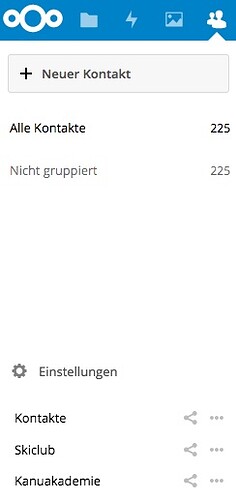 In MacOS Sierra only the "Kontakte" Adressbook and its Contacts are shown. The other Adressbooks and their contact do no show.
Screenshot MacOS Sierra Contacts:

In IOS it works fine. All 3 Adressbooks are shown.
Has anybody any suggestions to fix this Problem? Havn´t found anything in www.