Originally published at: Digital Sovereignty for Governments with Nextcloud Enterprise - Nextcloud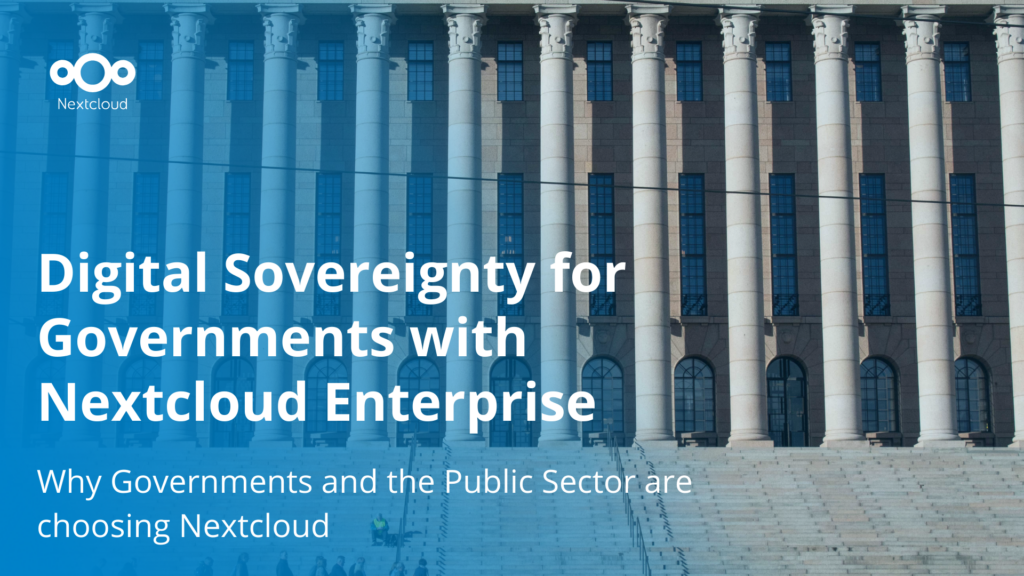 Governments, agencies and public services have the immense responsibility to protect citizen's data. With the tremendous amount of choices for online collaboration tools hosted by dozens of different vendors, it is hard to keep an overview of where that data is. At the same time, strict policies forbidding employees from using random third-party platforms limits their productivity and it is hard to ensure the rules are followed.
The best solution is of course to offer a single collaboration platform that is easy to use, offers all functionality users need AND that can be trusted with sensitive data. But can you trust a third party vendor with such power? There are legal but also public image consequences of a choice of vendor.
What if you didn't have to rely on any third party at all and you could keep data under your own control?
Amid rising concerns about digital sovereignty, many governments and public services are discovering the benefits of an open-source, on-premises collaboration platform in Nextcloud. Let's dig into why governments around the world are choosing the Nextcloud solution.
Host your data at home
Foreign cloud providers like Microsoft and Google have obtained customers across the globe, however for those outside of the USA, there are legal and practical consequences.
One of those is being subject to the pressure of a foreign government.The U.S. has laws in place that force tech companies to release their data to US intelligence agencies as well as businesses or government agencies when a court mandates it. This can even happen under a gag order, so the entity which has its data handed over will not know about it – or only long after it happened. In short, foreign data is at risk and could be compromised at anytime whenever it is being held by US based companies. Note the wording – this extends beyond US borders! Even data in an European data center is subject to the US CLOUD Act, signed by US president Donald Trump. Despite international efforts to remedy the situation, even the EU-US Trans-Atlantic Data Privacy framework does not eradicate the risk involved.
It is far safer to house your data within trusted data servers in your country. With Nextcloud, governments and public services can be in control over their data and do not not have to worry about foreign regulations or changing laws. Out of all our government customers, hosting data in one's own country is the highest priority that can be achieved by deploying Nextcloud.
For instance, the City of Geneva in Switzerland placed high importance on a cloud solution that is secure and compliant with data privacy law. With Nextcloud, these requirements were all possible and to prove it, even an extensive audit was executed to make sure our solution was the best fit.
Avoid vendor lock-in
A serious risk with SaaS vendors is around vendor lock-in. Vendor lock-in, often designed into SaaS products, is a situation where a customer can not move away from a vendor as the switching costs would be very high. This is not just in terms of money – often, moving away means losing (meta) data, or incurring a significant period where there will be no service. Taking data out of a cloud service, for example, can take a long time, and shut down operations. Here are several identifiable risks:
If sanctions force the vendor to shut down their product or service, they go bankrupt, or the company is sold, the customer is stuck. If they want to update their policies that go against your protocols, they have the power to do so without informing you in advance. This kind of unreliability cannot be tolerated by government and public sector entities.
If the vendor raises prices, you're stuck paying the new price.
Microsoft managed to increase their inflation-adjusted prices for their enterprise Office product by 5x since 2003, extracting significantly more money from their customers over the years. While this benefits their share holders, customers are less thrilled.
If your company relies on a critical product, feature or integration provided by the vendor and they decide to discontinue it, you're completely out of luck and will be left to find a new solution.
What's the perfect antidote against the risks of vendor lock-in? The answer is open source. When you run open source software like Nextcloud yourself or at a local hosting provider, nobody has the power to shut down your service or lock you out of your data. Even if, for whatever reason, Nextcloud would no longer be a reliable vendor, availability of the source code and our policies on open standards would allow customers to migrate to other solutions while they keep their service running for the time inbetween.
Protect citizens data
With a growing digitization, the challenge of privacy and security becomes ever bigger. Governments can not be seen to leak data of citizens. It is paramount that government institutions have a solution in place that gives them and their citizen's the certainty that the way they store and work with data is secure.
With Nextcloud Files, government entities can rely on secure document exchange internally and with other organizations. Security features like File Drop, group folders with advanced permissions and persistent versioning create a safe environment to work.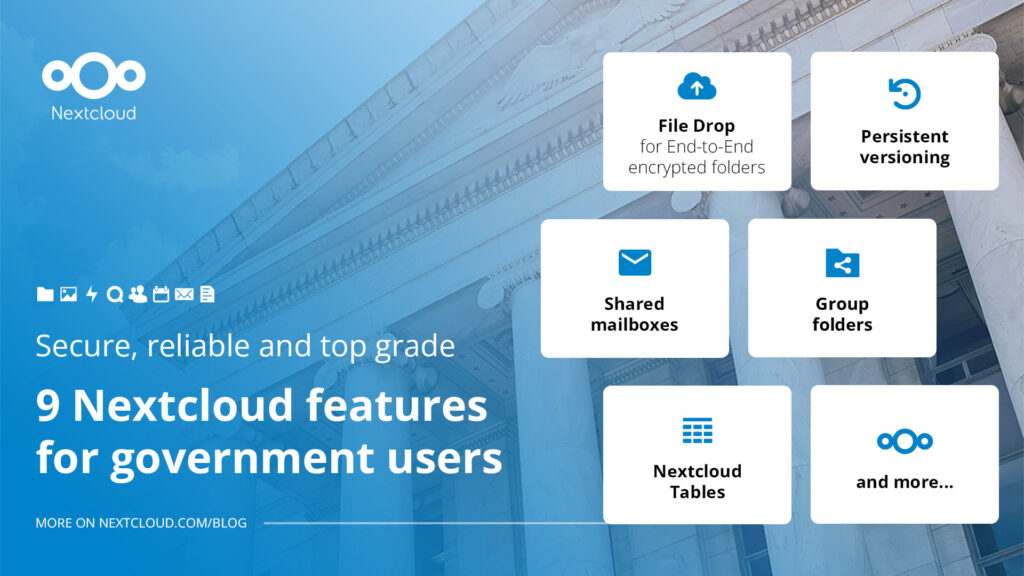 Boost digitization
With so many productivity tools out on the market, it's easy to pick a few that you think are best for their main use: The fastest internal chat, the sleekest mail system and the most versatile file storage. However, constantly switching between different applications can produce a toggle tax or the cognitively taxing switch from one task to another. It also increases your reliance on multiple platforms and the companies that back them.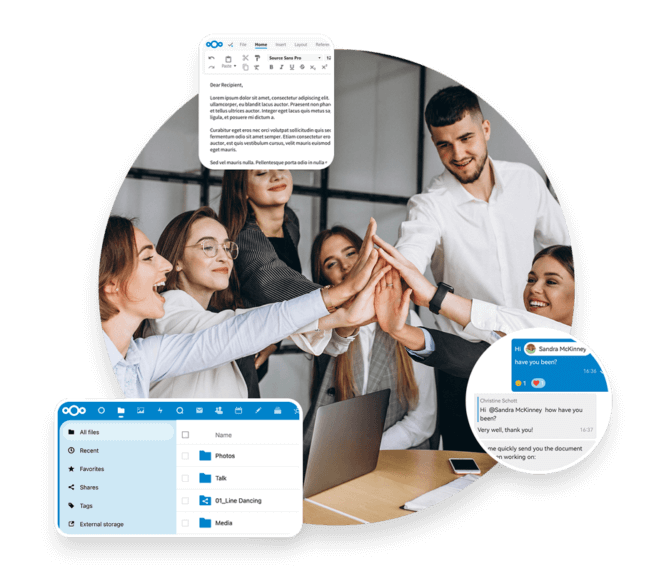 With a single platform like Nextcloud, all your applications from file storage to email are in one place and backed by you.
Using a single platform enables stronger productivity, collaboration and security as well as significantly lowers costs and maintenance work.
What Nextcloud offers
Nextcloud offers a modern, easy to use Content Collaboration Platform accessible through mobile, desktop, and web interfaces. Teams collaborate seamlessly in real-time documents, chat, and engage in video calls, access their email or plan meetings in calendars. As a pure software vendor, Nextcloud does not force customers to host in its data centers but works with a variety of leading partners to provide SaaS or on-premises solutions.
Don't hand your data to a third party
Fully auditable code
No vendor lock-in
Industry leading security features
Integrated collaboration environment
Pave your own path towards digital sovereignty
It's never too late to start building your path towards full digital sovereignty. With Nextcloud, it can be accomplished and once you reclaim your data, you'll never look back.
Get started now
Discover the possibilities of a self-hosted collaboration platform geared toward governments