Originally published at: https://nextcloud.com/blog/decentralize-the-cloud-with-fast-deployment-and-easy-backup/


Today, with the release of Nextcloud Hub II, we also want to talk about something less technical. Nextcloud was founded to decentralize the cloud, to put users back in control over their data. According to the Universal Declaration of Human Rights, Privacy is a human right! We at Nextcloud believe that everybody should have digital sovereignty.
Today, we want to take another step in that direction. We are introducing 3 improvements that are aimed straight at advancing our mission: a Nextcloud All-in-one Docker image, a peer-to-peer Backup app, and an updated version of our Solid integration. Let's break that down!
Background
Our move come as the demand for digitally sovereign, privacy-respecting solutions is skyrocketing. Over 70% of computer users are searching to increase their online privacy and enterprises consider data privacy and confidentiality their most important concern only behind data loss. Besides a significant uptake of Nextcloud in business and government, these concerns have also resulted in the deployment of hundreds of thousands of privately operated Nextcloud servers from small and medium businesses and individuals.
There is however a significant barrier, as running a small server takes skills and users rightly worry about potential data loss when a server experiences problems. Lowering this barrier with easy cloud deployments and peer-to-peer backup will enable orders of magnitude more small and medium businesses to escape the clutches of Big Tech and regain control over their data.
Nextcloud All-in-one
The All-in-one Docker image adds an option to the existing hosting solutions which already serve millions of Nextcloud users, giving users more control over their private cloud in exchange for a small amount of maintenance. It automates configuration of web servers, databases and other underlying technology while offering the entire range of Nextcloud Hub II functionality out of the box. This includes the high-performance back-ends for Files and Talk. It provides an easy administrator interface from where individual services, ran as separate containers, can be managed.
Key features:
Nextcloud Hub including Nextcloud files, Nextcloud Talk, Nextcloud Groupware and Nextcloud Office
High performance backend for Nextcloud Files
High performance backend for Nextcloud Talk
Redis caching server
Admin console for maintenance
Easy, semi-automated upgrades
Built in backup based on BorgBackup
See the admin console in the screenshot below.
Get the new All-in-one Docker image
Note that the All-in-one Docker container does NOT aim to replace the existing Docker container. The existing, official Nextcloud container is far more flexible and designed for power users. The All-in-one is optimized for quick and basic, smaller-scale deployments in clouds like AWS or Gaia-X. The community maintaining the official Nextcloud Container is doing a fantastic job and we expect them to continue doing so!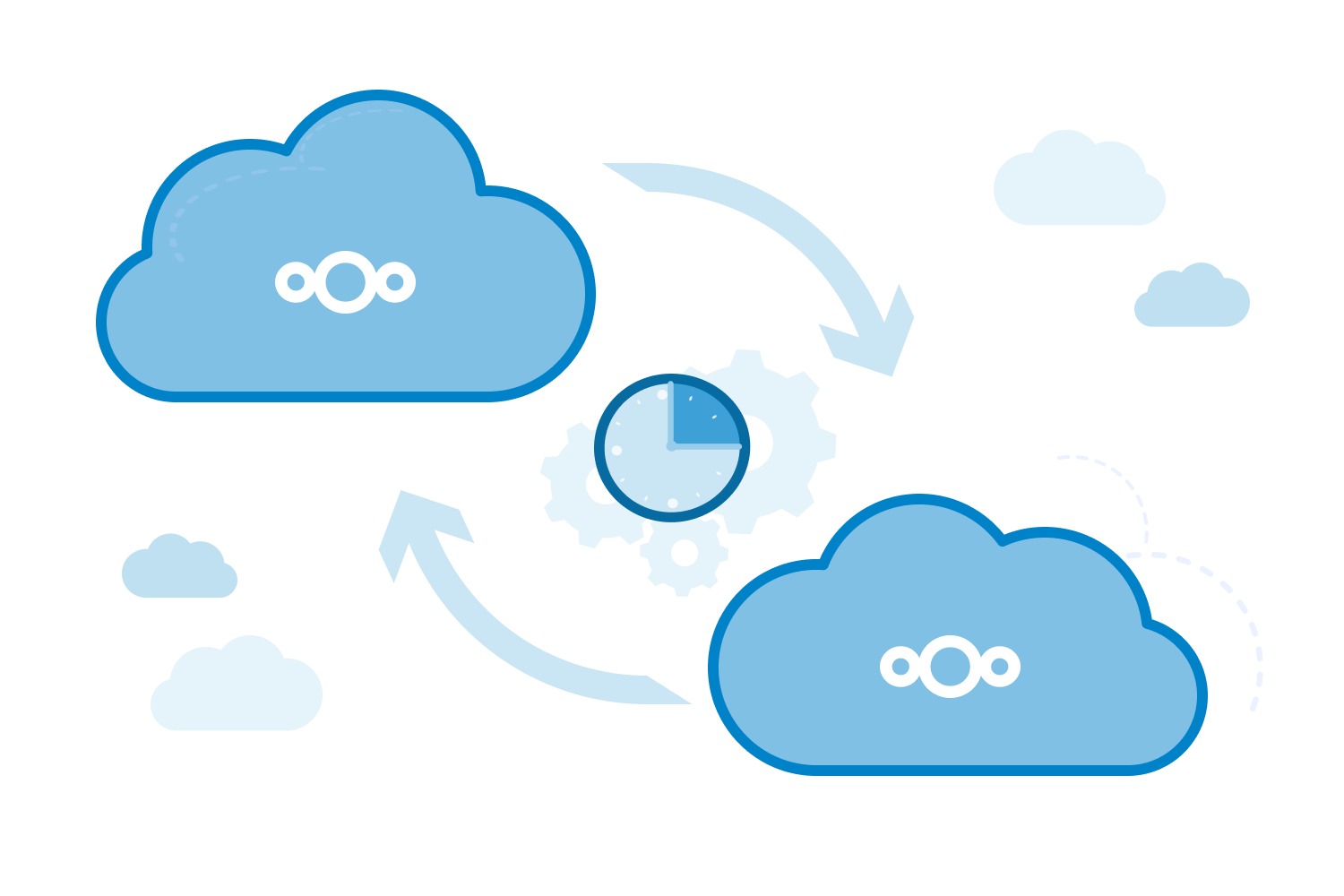 Nextcloud Backup
The peer-to-peer backup solution Nextcloud Backup is designed to help private users store a backup of their Nextcloud instance on another Nextcloud server operated by a friend or family member. Backups are compressed and encrypted and users can restore either individual files or their entire instance using an encryption key ideally stored off-site. Alternatively, the Backup app can store its data snapshots on any supported External Storage in Nextcloud like (s)FTP, SMB, SharePoint, WebDAV or S3 object storage.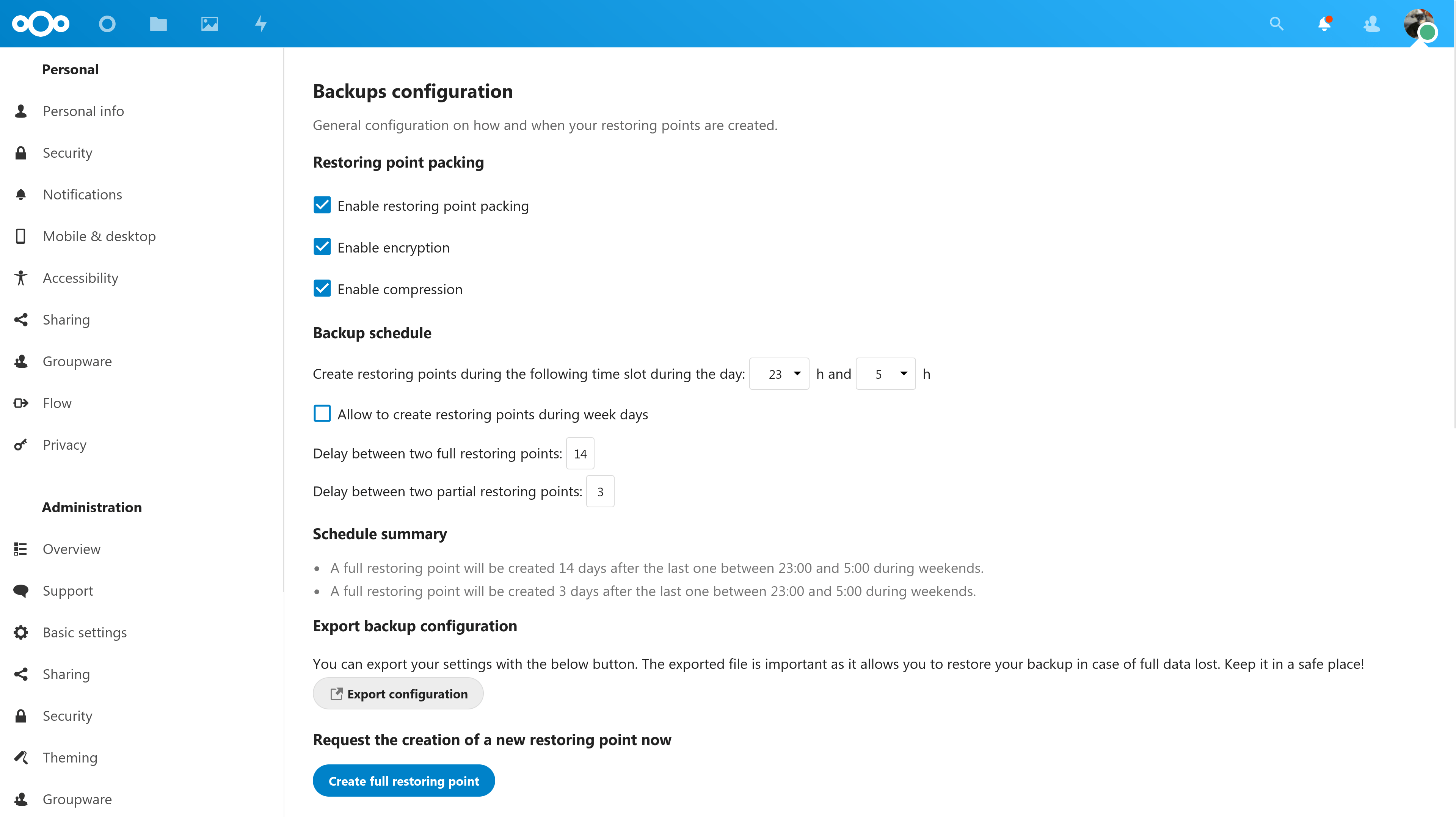 App settings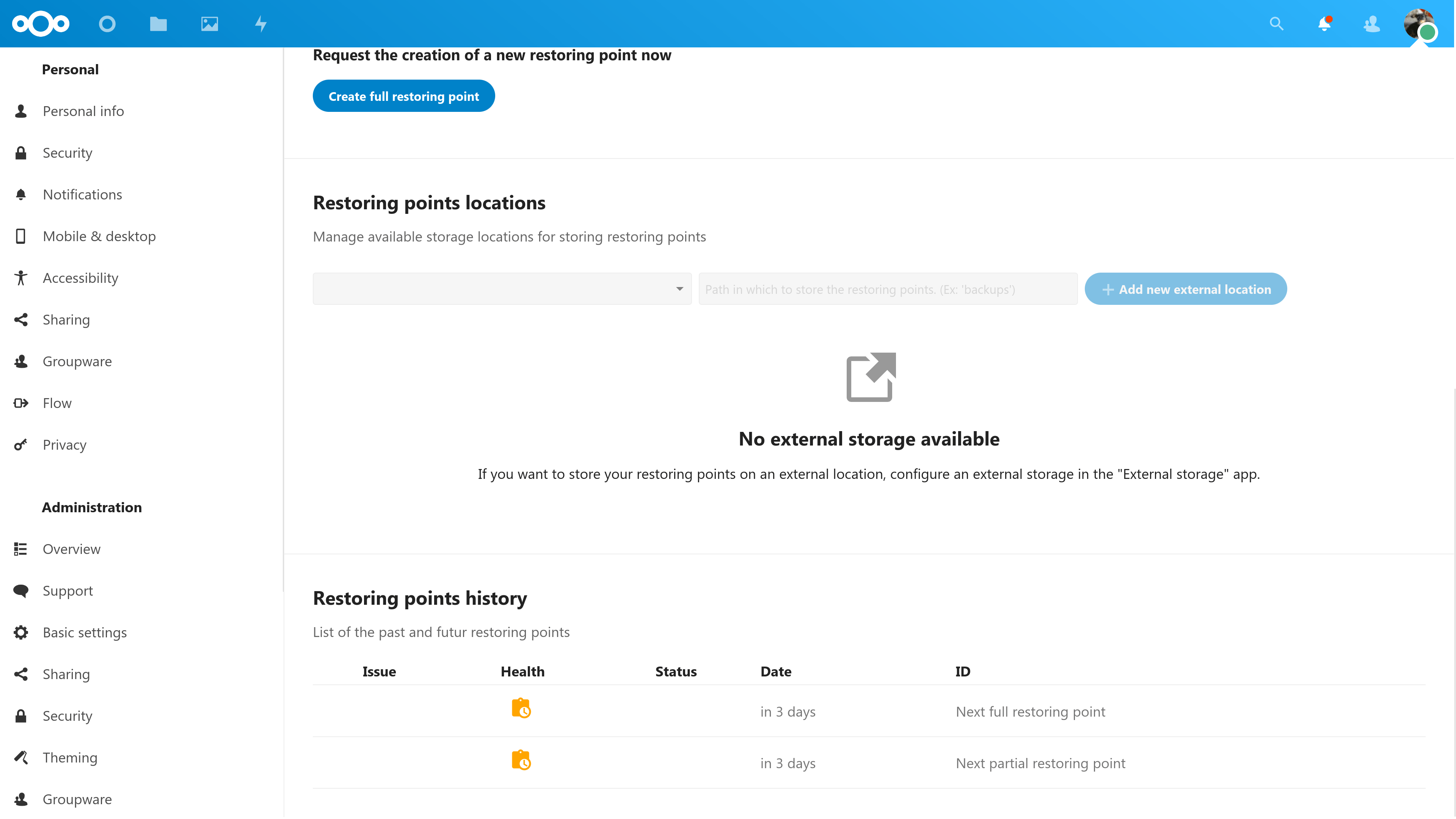 App settings (continued)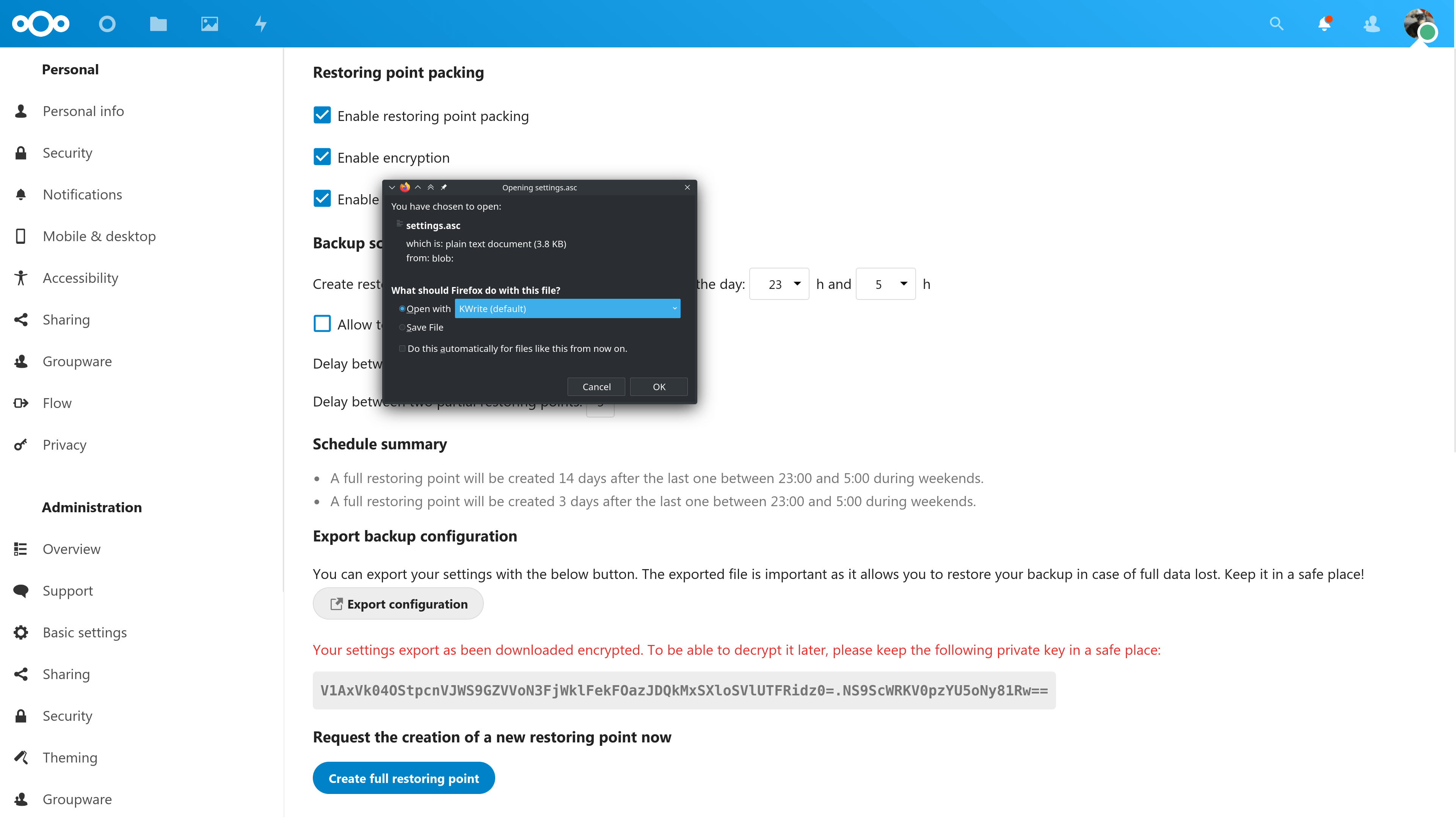 Getting recovery key from app settings
The app can:
Store backups on another Nextcloud server. The other server can but doesn't have to have the Backup app installed
Store backups on external storage, like FTP, SMB, WebDAV or any other Nextcloud-supported protocol. You can also store them on a local drive, like an USB drive attached to your server!
Do manual and/or automatic, scheduled backups in time slots you can configure
Store the entire Nextcloud installation, including configuration, apps and their data. Note: non-local data, including external storage, is NOT backed-up. Maybe a feature for the future!
Do differential or full backups in the background (short maintenance mode needed)
Do optional (but recommended and enabled by default) compression and encryption
Export encryption key and other configuration information to a file or clipboard for safe-keeping
Give notifications in the Activities app about backup activity
Exclude folders from backup if you add a .nobackup file in the folder.
Be controlled by the command line to search for and restore single files, initiate full restore, or list and create backups
Learn more in our earlier blog about the beta of the Backup app.
Solid
Together with the availability of new, easy deployment and backup solutions for Nextcloud Hub II, Nextcloud partners at PDS Interop have readied an update for the Solid server integration for Nextcloud aimed at wider deployment of this technology. The Solid project, conceived by WWW-founder Sir Tim Berners-Lee, is a new web standard for decentralized storage of data in so-called Pods. Nextcloud can act as a storage Pod, giving users the ability to connect to other apps in the developing Solid ecosystem.
The idea of Solid is that users' data resides in one or more Solid pods, and (web) applications ask users access to these pods to be able to read and write data, rather than provide their own data store. As the Pods are under control of the user, so is any data they store. Learn more about Solid here.
Sir Tim Berners-Lee recognized the impact the large ecosystem of Nextcloud servers and users can represent for Solid and decentralization of the web.
It could be that the way Solid takes off is that it starts off with all the Nextcloud users just becoming Solid users.
— Sir Tim Berners-Lee, Solid Director, at Solid World April
Availability
Nextcloud's All-in-one cloud image, Nextcloud Backup and the Solid Pod app are all available right now with the release of Nextcloud Hub II.