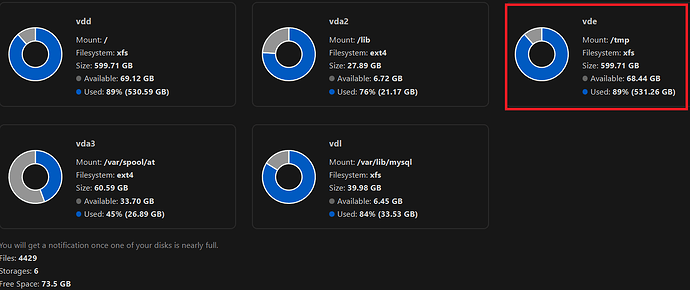 See Attached Pic of TEMP folder taking up 531GB killing my website and services. I deleted everything in my next cloud as it was syncing photos and videos. So i stoped it all, deleted it all. But this Temp folder i cant find in FTP to even force delete it.
[/details]
Nextcloud version (eg, 20.0.5): Nextcloud 27.1.2 - UNABLE TO UPDATE DUE TO SERVER SPACE
Operating system and version (eg, Ubuntu 20.04): cPannel under Linux
Apache or nginx version (eg, Apache 2.4.25): ?
PHP version (eg, 7.4): 8.1
The issue you are facing: Massive Temp folder, unable to delete?
Is this the first time you've seen this error? (Y/N): Yes
Steps to replicate it:
Setup a cPanel Next cloud
Run it good for 3-4 months doing phone sync and photos
Realise that Temp is not removing itself even after deleting everything and emptying the bin in nextcloud.
Happy to provide more info, but i don't see how it is relevant, and I need a quick answer on deleting the files, if this is not possible without dumping all my logs, then sorry. Not too comfortable doing that and will need to spend a lot of time to remove sensitive info. Just want to know if this can be fixed/salvaged
Much appreciated, was hoping to roll this out for clients, but I'm quite scared now.