Originally published at: https://nextcloud.com/blog/tu-berlin-collaborate-with-confidence/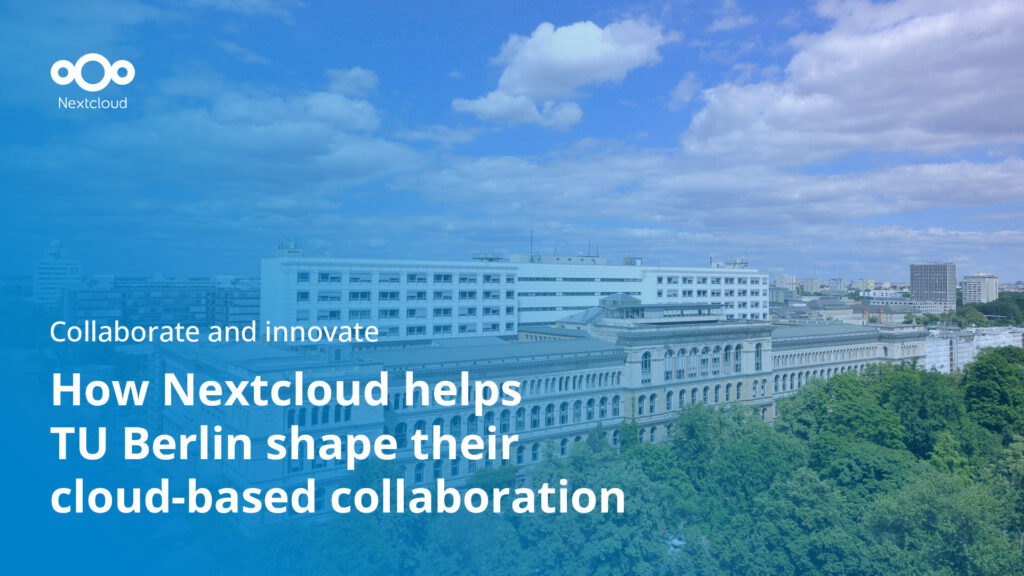 Sharing of knowledge and data is the bedrock of any scientific or research community. Data needs to be sharable among peers so different communities can work together in a collaborative fashion. As important as access to data, equally important is access control; who can or can't access this data. This has been a big challenge for organization who work together and collaborate online.
ZECM, the IT service center of the Technische Universität Berlin (TU Berlin) offers tubCloud to the users of TU Berlin and several members of DFN (Deutsches Forschungsnetz), a collaboration of universities and research institutions in German.
tubCloud is a file sync and storage solution that's based on Nextcloud, an open source enterprise file sync and storage project. It's a competitor to services like Dropbox, which protects users privacy and ownership of data. tubCloud offers standard functionalities that users would expect from commercial services like Dropbox, including data storage and synchronization, online music playback, picture gallery and more. But unlike those other services, data stays at the TU Berlin, under control of its system administrators, under German law.
Join us for our upcoming webinar "Scaling Nextcloud for Universities" and learn how to scale Nextcloud Hub in large-scale environments specifically for universities.
This Nextcloud webinar takes place on March 22, 15:00, and CET.
Based on Nextcloud
When evaluating available solutions in 2011, TU Berlin chose ownCloud due to its ability to meet most of their requirements. However, after the contract with ownCloud expired in May 2017, the team decided to migrate tubCloud from ownCloud 9.1 to Nextcloud 11. Today, TubCloud is powered by Nextcloud Hub 3, version 24, empowering TU Berlin's students and faculty with advanced collaboration and file-sharing capabilities.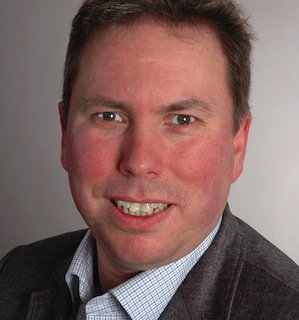 After migrating from ownCloud 9.1 to Nextcloud 11, tubCloud experienced significant performance improvements, resulting in over 38% lower database load during peak times and faster service for its users. The migration also led to the implementation of better security practices and introduced new features to tubCloud.
Today, tubCloud, powered by Nextcloud, serves over 70,000 users across 35 instances and manages hundred millions of files. "Most of these files are small 1kb – 2kb files, but these are critical files – text files, which could be research articles, meeting protocols, sample data from research and what not. Then there are bigger files that take up couple of gigabytes, in most cases these are raw data from research instruments," said Dr. Thomas Hildmann, head of the infrastructure department at tubIT and chairman of the DFN forum cloud-services. At the moment Nextcloud is helping tubCloud manage over 0.8 PB (PetaByte) of data from these DFN members.
Sharing is caring
Sharing of this data with other universities and teams within the same organization is critical to DFN members. It allows them to work together and collaborate. At the same time, Germany has some of the strongest data privacy laws in the world, so tubCloud needs to maintain the balance between sharing and privacy. Nextcloud Hub also has these two functionalities – ability to share, and total control over privacy – baked in at its core. They are offering privacy and collaboration features that are not found in even the most popular commercial software, for example advanced sharing and end-to-end encryption. Teams can offer fine grained access control to files, such as expiration of sharing after a certain time, or restrict access in certain regions.
All of that above, while keeping things simple. "When a new team is created, Nextcloud creates a team folder that's shared with every member that the admin adds to that team. Each member gets the same UI and experience," said Hildmann. "At the moment, 90% users use file or folder sharing. That's the most used feature here and it's very important for our users to have their files synced with multiple computers"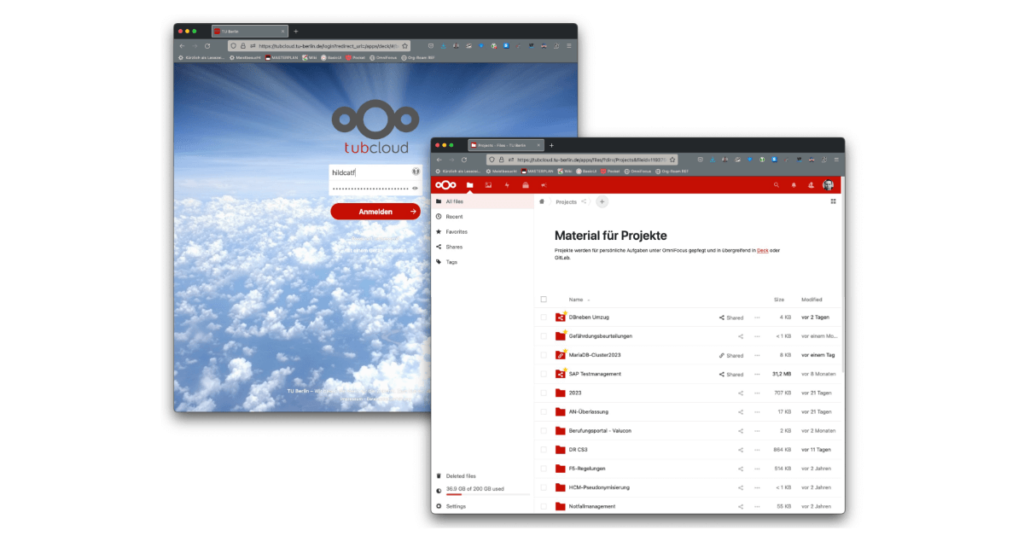 tubCloud Apps
Meanwhile, the Nextcloud community is actively developing new features and functionalities for Nextcloud Hub, some of which have been incorporated into tubCloud for the benefit of its users. These new features include online collaboration tools, audio and video chat, group chat, and project management capabilities, which are currently being used by DFN-Cloud users.
Online Collaboration
tubCloud has built-in support for plain text editing features. But users can achieve a Google Docs like experience. TU Berlin has been working with Collabora Productivity and some research partners to offer a Google Docs/Office 365 like online collaborative service to tubCloud users. While some research partners will start using Collabora Online, along with Nextcloud in January, TU Berlin plans to start it later this year, as they have to conduct extensive testing before it's deployed to serve more than 30,000 users.
tubCloud has built-in support for basic text editing features. However, for a more comprehensive online collaborative experience similar to Google Docs or Office 365, TU Berlin has integrated OnlyOffice and Collabora Productivity into tubCloud to provide their users with a robust online collaborative service.
Project Management
tubCloud offers a tightly integrated project management solution to its users through Nextcloud Deck, an app that is fully integrated within the Nextcloud Hub stack and supported by Nextcloud. Deck is heavily used by tubCloud users for project planning and team meetings, making it an important tool for collaboration and productivity.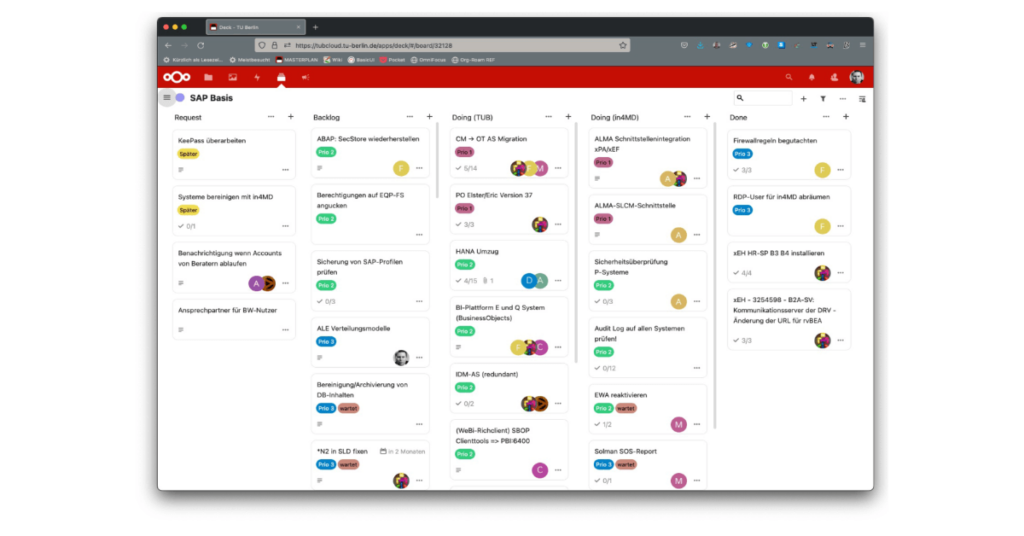 Infrastructure tubCloud
There are two important aspects of the tubCloud infrastructure to mention: first, the use of their own-developed storage file system called tubFS; and second, the use of OpenStack to manage the cloud environments for Nextcloud Hub. We will be diving into these topics in more detail now.
tubFS
TU Berlin is currently using their own storage file system called tubFS, which is based on the open source CEPH FS project. One of the primary reasons for building tubFS is to address use cases where a sync client is not feasible, such as in terminals where the virtual machine is respawned when a user logs out. In such scenarios, users are unable to access tubCloud data, but tubFS provides a solution by allowing users to access data from the front end using Nextcloud or Samba share. It is planned to integrate tubCloud with tubFS so that regardless of the device used to access it, users will always see a data directory that looks the same.
OpenStack
TU Berlin migrated their infrastructure to OpenStack, which allows them to create and manage scalable, secure, and flexible cloud environments that are compatible with multiple technologies. The university's goal is to create a centralized platform where all members of TU Berlin/DFN can access their files, collaborate with each other, and utilize various features such as collaborative editing, file sharing, chat, and more.
Future plans
We have several plans in store for tubCloud, and one of our top priorities is implementing encryption. Following our successful migration to OpenStack, we have end-to-end encryption on our roadmap and plan to introduce it soon.
End to End Encryption
tubCloud users may require strong encryption for private or sensitive data that is mandated by law in certain use cases. In addition to the existing on-storage encryption which is usefull in scenarios of third-party storage provider, Nextcloud has developed an industry-first solution for full end-to-end encryption. This solution allows users to choose any number of folders for complete end-to-end security, a feature that is not offered by even popular platforms like Dropbox. TU Berlin is considering implementing this end-to-end encryption solution in tubCloud for highly sensitive data. Doing so would be a significant milestone for tubCloud and its users.
Sharing Experience and Knowledge
ZECM, the IT service center of Technische Universität Berlin (TU Berlin), is eager to learn from other organizations that use Nextcloud Hub at scale. The university welcomes feedback and ideas from the community, and encourages further collaboration on this topic.
In the meantime, Thomas Hildmann would like to highlight an upcoming webinar on scaling Nextcloud that will be jointly offered by TU Berlin and Nextcloud. In this webinar, Thomas will provide a detailed overview of the implementation and configuration of managing 35 instances for 50,000 users at the university. We invite anyone who is interested in this topic to sign up for the upcoming webinar.
Join us for our upcoming webinar "Scaling Nextcloud for Universities" and learn how to scale Nextcloud Hub in large-scale environments specifically for universities.
This Nextcloud webinar takes place on March 22, 15:00, and CET.
---
This article is based on an article by Swapnil Bhartiya, originally published in German on cloudcomputing-insider.de, and has been updated with information from recent presentations by TU Berlin on this topic. You can find the original article here.