System: Raspberry Pi 3+
Installation: NextCloudPI
Nextcloud version (eg, 20.0.5): 25.0.5
PHP version (eg, 7.4): 8.1
The issue you are facing:
Hi guys,
since the last update, the desing of our nextcloud instance is back to "standard". I could change the colors with the built in "design" administration, but whenever I try to upload the image (be it logo or login), I get an error stating, that the path could not be created. Any help here?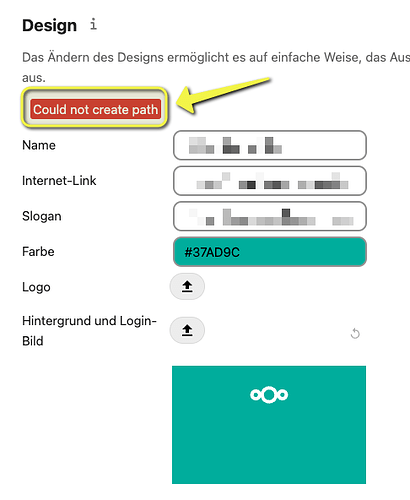 Is this the first time you've seen this error? (Y/N): Y
The output of your Nextcloud log in Admin > Logging:
[index] Fehler: OCP\Files\NotPermittedException: Could not create folder at <<closure>>

0. /var/www/nextcloud/lib/private/Files/SimpleFS/SimpleFolder.php line 106
   OC\Files\Node\Folder->newFolder()
1. /var/www/nextcloud/apps/theming/lib/ImageManager.php line 165
   OC\Files\SimpleFS\SimpleFolder->newFolder()
2. /var/www/nextcloud/apps/theming/lib/ImageManager.php line 180
   OCA\Theming\ImageManager->getCacheFolder()
3. /var/www/nextcloud/apps/theming/lib/Controller/IconController.php line 124
   OCA\Theming\ImageManager->getCachedImage()
4. /var/www/nextcloud/lib/private/AppFramework/Http/Dispatcher.php line 225
   OCA\Theming\Controller\IconController->getFavicon()
5. /var/www/nextcloud/lib/private/AppFramework/Http/Dispatcher.php line 133
   OC\AppFramework\Http\Dispatcher->executeController()
6. /var/www/nextcloud/lib/private/AppFramework/App.php line 172
   OC\AppFramework\Http\Dispatcher->dispatch()
7. /var/www/nextcloud/lib/private/Route/Router.php line 298
   OC\AppFramework\App::main()
8. /var/www/nextcloud/lib/base.php line 1047
   OC\Route\Router->match()
9. /var/www/nextcloud/index.php line 36
   OC::handleRequest()

GET /apps/theming/favicon/settings?v=50d7a600
from 79.216.235.203 by Georg at 2023-04-14T07:13:21+00:00