Still trying to get a new installation working properly. I'm running NextCloud on an LXC Container behind and Nginx reverse proxy. The webpage works, the Linux and Windows clients work, but the iOS one won't connect. When I put in my url and tap "Log in" I get the following error: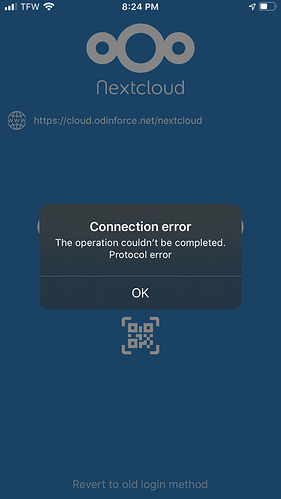 All I see as far as logs is 192.168.136.133 - - [29/Dec/2019:20:23:02 -1000] "GET /nextcloud/status.php HTTP/1.0" 200 1580 "-" "Mozilla/5.0 (iOS) Nextcloud-iOS/2.25.3" in /var/log/apache2/access.log. No errors logged.
Not sure if it's important, but 192.168.136.133 is the IP of my Nginx reverse proxy, not my client.
This is one of the last 2 things keeping me from jumping on board. Please help.
Rhys
system info:
https://cloud.odinforce.net/nextcloud/index.php/s/2yc4PGbxkdGQbLa
pass BeuzmHdP+BirxOZpxEPG