Nextcloud version (eg, 18.0.2):
Operating system and version (eg, Ubuntu 20.04): DietPi
Apache or nginx version (eg, Apache 2.4.25): redis (?)
PHP version (eg, 7.1): 7.3… something
Android App Version: 1.13 (from Play Store)
The issue you are facing:
When I add a bookmark on android it don't work.
Screenshots: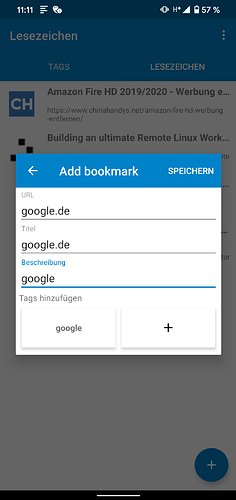 Steps to replicate it:
Every time i try to add a bookmark in the APP.
The output of your Nextcloud log in Admin > Logging: HOW?
When I try to add a bookmark in the "Nextcloud Bookmarks" App it say "Can't add bookmark".
On my Nextcloud Server I can add bookmarks and see them in the app.
What can I do to get the app working?