Hey,
i run a nextcloud instance on my rasperry pi 4. I wanted to update my nextcloud instance to a newer version. Before that i did a backup of course. I ran the update on the rasperry pi nextcloud webinterface and got no errors. Then i wanted to go on my nextcloud instance, i get this screen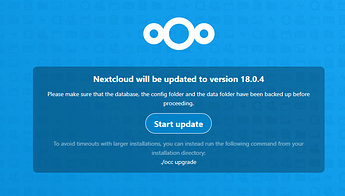 . When i click on Start update. It's just loading and will never stop. Anyways i decided to restory my backup but when i'm doing it. I get this error:
Hopefully someone can help me.