Originally published at: Announcing OVHcloud as a Sponsor at Nextcloud Enterprise Day 2023 - Nextcloud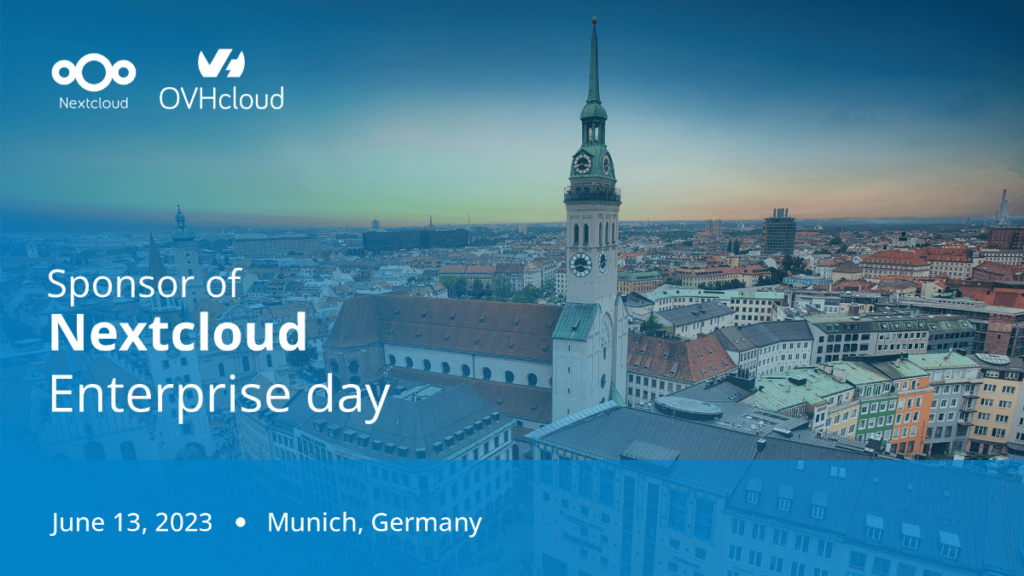 We are happy to announce OVHcloud, a prominent leader in the European cloud services sector, as a sponsor for the forthcoming Nextcloud Enterprise Day. The event is slated for June 13, 2023, in the vibrant city of Munich, Germany.
OVHcloud's rich experience and innovative solutions in cloud and bare metal services, rooted in a European approach to data sovereignty and commitment to open-source software and standards, align seamlessly with Nextcloud's principles. This synergy enhances the collaborative value we offer to our customers.
About OVHcloud
OVHcloud's mission is to provide a comprehensive suite of innovative cloud and bare metal solutions, embodying a distinctly European approach. They deliver their infrastructure to over a million global customers, while steadfastly upholding their core European values.
Our strategic partnership with OVHcloud has borne significant fruit. A testament to our successful collaboration was the showcasing of our latest release, Nextcloud Hub 4, at Cloud Expo Europe. This joint effort underscores our shared commitment to data sovereignty, fair competition, and robust data privacy and protection, enabling us to offer powerful, secure, and reliable solutions to our customers.
Through OVHcloud, customers can effortlessly acquire their own Nextcloud server. OVHcloud manages the server comprehensively, handling configuration and optimization for the best Nextcloud performance.
About Nextcloud Enterprise Day
Nextcloud Enterprise Day 2023 is a golden opportunity for IT professionals, project managers, and decision-makers to discuss evolving business demands and their implications on IT security. Our experts will be there to help you navigate the rapidly changing landscape, capitalizing on opportunities while mitigating the challenges presented by the cloud.
We have an enticing agenda on the cards, with business sessions encompassing a broad spectrum of enterprise use cases. Our team of experts, our technology partners – including representatives from OVHcloud, and our engineers will be available at info booths to answer your queries and provide deeper insights. Don't miss this chance to influence the Nextcloud roadmap and gain a front-row seat to industry trends.