Originally published at: https://nextcloud.com/blog/announcing-ionos-as-a-sponsor-at-nextcloud-enterprise-day-2023/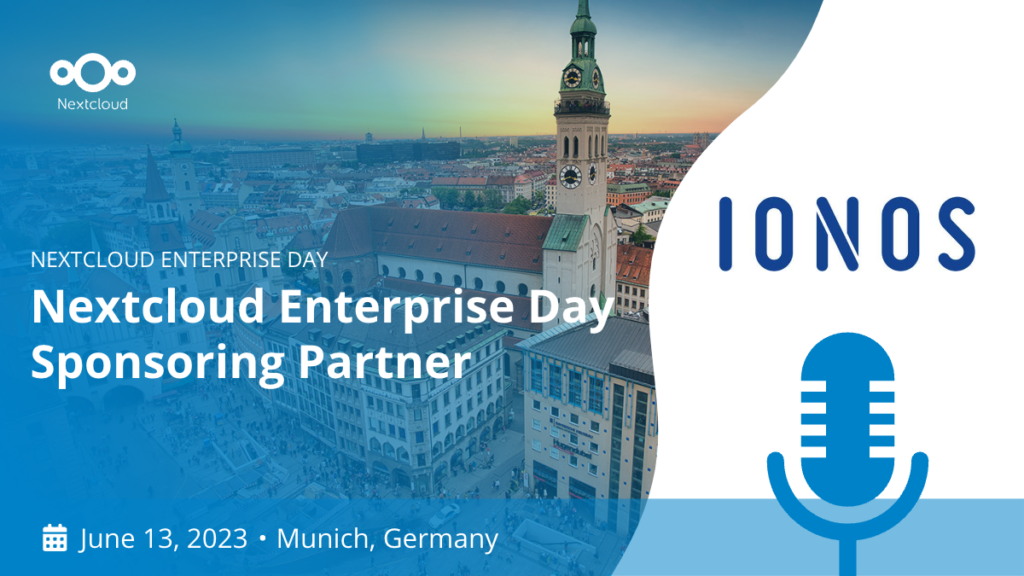 We're excited to announce another sponsor for the upcoming Nextcloud Enterprise Day, scheduled to take place on June 13, 2023, in the city of Munich, Germany. We are delighted to welcome IONOS, one of our respected partners, as a sponsoring partner for this event.
The strategic partnership between IONOS and Nextcloud is centered on enhancing security, transparency, and data sovereignty through the consistent application of open standards and open-source software, strengthening the collaborative relationship between our organizations.
About IONOS
IONOS is a top European digitalization partner for SMBs. With six million customers in 18 markets, they provide worldwide accessibility and a comprehensive Web Presence & Productivity portfolio, serving as a convenient 'one-stop shop' for digitalization needs. IONOS enables customers to host their own Nextcloud server within their secure, trusted and certified data centers.
IONOS and Nextcloud share a lasting and dynamic partnership, established upon shared goals of enhancing security and boosting transparency. Our collaboration is grounded in the utilization of open standards and open-source software, reflecting our shared belief in the rights of customers to scrutinize the code, pinpoint any security gaps and adjust as needed.
Both IONOS and Nextcloud are firmly committed to raising awareness around the crucial issue of data sovereignty. Our common conviction is that organizations should – and indeed can – reclaim control over their data. This conviction forms the basis of our partnership and this sponsorship.
About Nextcloud Enterprise Day
At this year's Nextcloud Enterprise Day, we are delighted to unveil a strong agenda, carefully curated to encompass a broad range of enterprise use cases. Our seasoned team of industry experts, along with our technology partners, including representatives from IONOS, and our dedicated in-house engineers, will be on hand to address your questions and provide invaluable insights.
This event represents a unique opportunity for attendees not only to contribute to the Nextcloud roadmap but also to understand the prominence of Nextcloud Hub as the premier suite for self-hosted collaboration.