I set up a Nextcloud instance on my private server which is working fine so far. I am able to connect via the Linux client, my browser, etc. Unfortunately, I cannot figure out how to connect the Android client with my Nextcloud server. I get two different error messages depending on whether I input the URL or the IP address of my server (see screenshots below). If I try to connect with the IP, it says that the server is in maintenance mode, which it obviously is not. When entering the URL, the connection gets tested and finally I get the message that the server took too long to respond.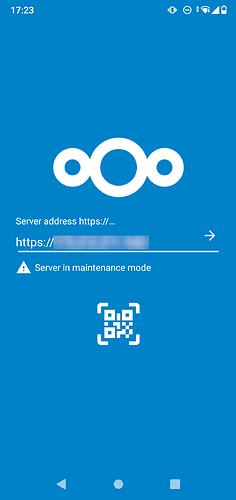 If I try to connect with other applications (like Solid Explorer File Manager or keepass2android) from my phone, the connection succeeds after some time and I can view, download and upload files without problems. My setup is based on the examples for a dockerized setup with nginx proxy and self signed SSL certificates and I set'overwriteprotocol' => 'https' in my config.php.
Nextcloud server version is 20.0.4
Nextcloud Android client version is 3.14.3
Is this a bug of the Android client or more likely an error in my server configuration?
Thanks in advance for any help!