Originally published at: All you need to know for the Nextcloud Conference 2023! - Nextcloud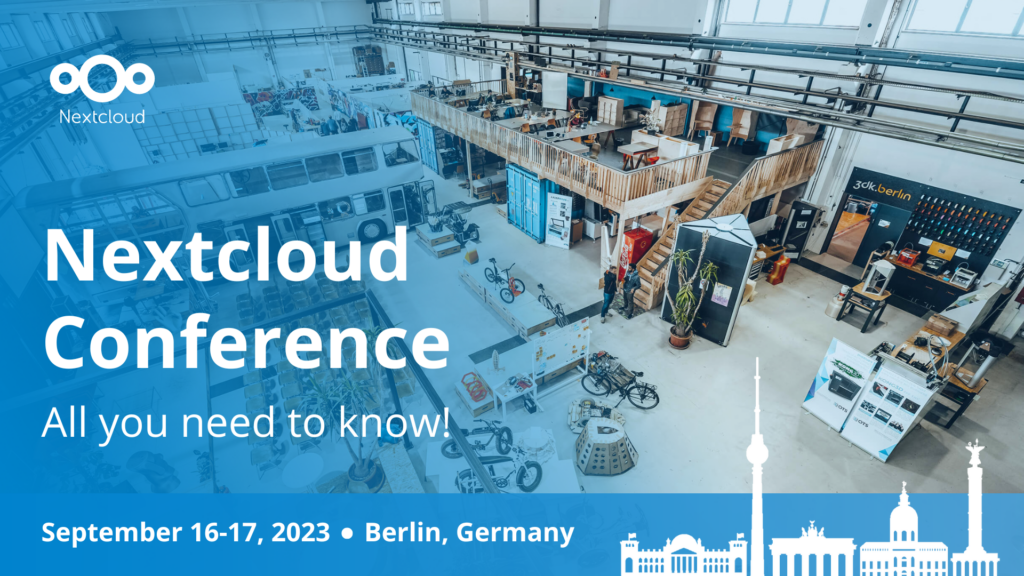 This blog is your guide to everything you need to know about the Nextcloud Conference.
Our goal is to help you feel prepared, relaxed and excited for an incredible weekend!
What to expect
Our venue MotionLab.Berlin is unique to say the least. The large industrial space of 1.500sqm is full of inviting areas to work like spacious open spaces as well as many small nooks and corners to retreat to – including a renovated bus!
At Nextcloud Conference, you'll be able to sit and code with like-minded individuals – developers, coders, entrepreneurs and designers – for the whole week. You'll also have plenty of spaces to enjoy a meal or snack, take time for yourself, and unwind.
We hope you enjoy this space and use it to your full advantage!
Hours of the Conference & Contributor Week
Saturday, September 16th
Admission: 9 AM
Start of program: 10 AM
Party: 7 PM – Midnight
Sunday, September 17th
Admission: 9 AM
Start of program: 10 AM
End of program: 5 PM
Monday-Friday September 18-22nd
Open from 9 AM – 12 AM
What to bring
Lanyards: In light of sustainability, we would ask attendees who have come before to bring their lanyard. If you haven't been before, don't worry, we will have badges for you to wear.
Nextcloud T-shirt: If you have a Nextcloud T-shirt, please bring and wear it! If not, then there will be T-shirts available!
Headphones: There will be free time and areas to work in, so be sure to bring your own ear buds or headphones if that's your thing to get in the zone.
Laptop (+ charger): You will need to bring your own laptop if you want to use one, as we will not have ones for rent or borrowing.
Arrival
To get to our venue MotionLab.Berlin, the most convenient way is to take public transport with the bus or S-Bahn. The closest S-Bahn station is Treptower Park. The easiest way to enter is via Jordanstrasse, 3rd entrance. To your left, you will find Hall 20 – MotionLab.Berlin.
We recommend to put in the following address into a Maps app on your mobile device:
MotionLab.Berlin in Treptow
Bouchéstrasse 12, Halle 20
12435 Berlin
Upon your arrival, there will be some signs to help guide you.
There is free street parking available but it can fill up. Bikes, scooters, etc. can be parked on the commercial yard, The Bouché-Höfe.
Admission
Once you've entered the building, you will be greeted at our registration desk where you will check in, receive a badge (if you didn't bring your own lanyard from the last Conference), and have the opportunity to be able to ask any questions you might have.
Hygiene & safety
MotionLab.Berlin has all the mandatory protocols for upholding a safe environment, including first aid kits around the building and an in-house staff that keeps things running smoothly.
We thank you for your cooperation in being mindful of others to maintain a healthy and safe event.
Code of conduct
The Code of Conduct presents a summary of the shared values and "common sense" thinking in our community. The basic social ingredients that hold our project together include:
Be considerate
Be respectful
Be collaborative
Be pragmatic
Support others in the community
Get support from others in the community
Our community
Read our code of conduct here.
Sustainability
Nextcloud is committed to sustainable, responsible practices and ensuring empathy in a (digital) society. As we host a major in-person event, we are aware of our social responsibility and environmental impact. Therefore, we will recycle all we can and try to avoid waste. As for your contribution, we ask you to bring your old lanyard and/or Nextloud T-shirt from a previous event to help our cause. We hope to make the #NextcloudConf a sustainable and friendly environment for all so we can continue these events in the future responsibly.
Food & Drinks
Every day of the conference there will be access to free water (regular and sparkling), soft drinks, tea, and coffee. The fridges will be re-stocked regularly so there won't be any shortages!
In addition, a complimentary lunch is provided every day including vegetarian, vegan, lactose-free, and gluten-free options. By registering for the event, you already filled out your dietary preferences. On Saturday for the party, we will provide pizza which will also have vegetarian, vegan, lactose-free, and gluten-free options.
Breakfast, snacks and dinners (excluding Saturday night) are on the attendee.
Accessibility & Inclusion
We are committed to #NextcloudConf being an accessible event to everyone who wants to participate.
The entire conference will be held in English, however there's a good chance you will meet other people attending who speak your native language as we attract many international visitors.
The venue is completely barrier-free, wheelchair accessible and accessible for persons with disabilities.
As every year, we will be taking photos and videos throughout the event purely for our marketing purposes i.e. photos for our website and a compilation video of the event. If you don't want your photo taken or don't want to be in a video, please let us know during your registration time.
At the Nextcloud Conference, we want everyone to feel part of the community and rest assured they are safe and feel heard. It's a great time for unity and togetherness as we have fun, share ideas, learn and grow. If at any time you get stuck, have any questions, or just need a mentor, please don't hesitate to reach out to our team via email, Twitter, or through other attendees.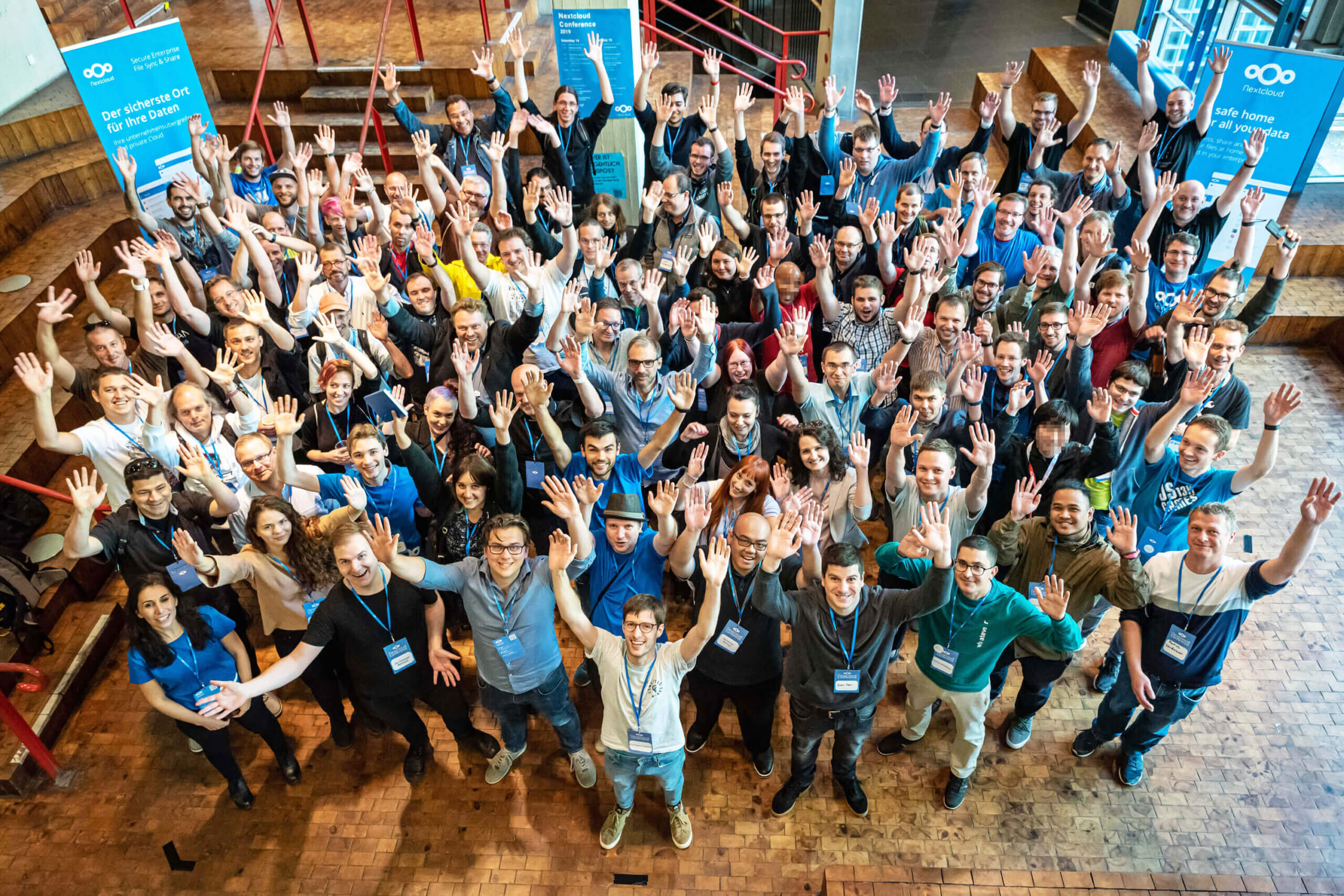 #NextcloudConf Survey
After the #NextcloudConf, we will provide an optional survey for you to provide feedback about the conference. Stay tuned on our Twitter!
See you there!
We look forward to meeting you!
Be sure to use the hashtag #NextcloudConf on all your social media platforms to spread the word and share your experience! 💙
Not registered yet?
There's still time! Register for the Nextcloud Conference September 16-17 in Berlin.