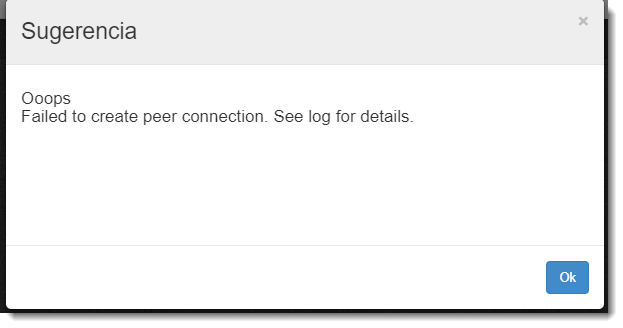 How solve that issue?
Bro, is spreedme app, no video call app, look:
But sometime show "Failed to create peer connection, See log for details", like this
Can u share me instructions, commands, step by step for install coturn in ubuntu 16 / digitalocean
Stay alert
Does this really just happen sometimes or every time?
Have you tried to use the STUN server?
Yes, we already have some documentation on how to set up a TURN server:
If this didn't help, try to debug the problem using your browser's WebRTC internals page (in Chrome this is available at chrome://webrtc-internals/) and check the developer console (you need to add ?debug to the URL, e.g. https://yournc.demo/apps/spreedme?debug
Only when new user added
i have this in my server.conf
[http]
listen = 127.0.0.1:8080
basepath = /webrtc
root = www

[https]

[app]
stunuris = stun:stun.spreed.me:443

i need tell you, im using this https://github.com/nextcloud/vm for install all NC, spreedme and collabora
https://goo.gl/mMPJAt, video show your suggest
pls referr to this process and commands
this is log of spreed-webrtc-server
Stay alert
anyone to help me in this issue?
https://goo.gl/mMPJAt, video show your suggest
You did not add ?debug to the URL. This parameter is required to get any log output on the developer console.
Please PM me a Temporary Password. Alternatively use leon [AT] struktur [DOT] de.
Have you tried to reproduce the issue from a (different computer / browser on a) different network?