Originally published at: Nextcloud at Zukunftskongress in Berlin - Nextcloud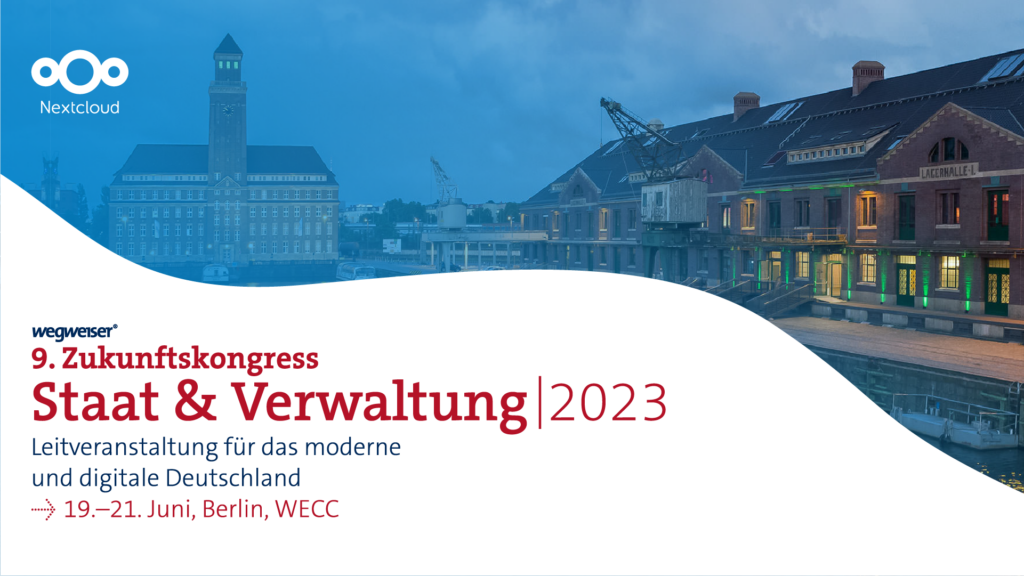 This year is the 9th annual Zukunftskongress, or the Future Congress State & Administration in Germany. The Zukunftskongress is hosted by Germany's Federal Ministry of the Interior and Homeland and is celebrating 10 years in 2023. The congress is a "source of inspiration for the modern and digital state" and is known to attract almost 2,000 key executives across Germany, Austria and Switzerland.
Nextcloud will be attending this year to show how governments can become digitally sovereign and safeguard confidential data of its administration, citizens and contacts. Governments are increasingly moving away from foreign cloud providers amid rising concerns about digital sovereignty and Nextcloud has emerged as the most deployed self-hosted private cloud solution in government.
Submit your details below to meet our Nextcloud team and secure your free tickets to Zukunftskongress!
Attendees can look forward to a 3-day extensive program that provides groundbreaking perspectives and opportunities for administrative digitization. Keynotes and plenums, specialist conferences, future forums and much more are planned.
During the event, 6 main action items will be discussed from governance in digital transformation, to cloud and digital infrastructure. In the line-up are hundreds of speakers (in 2022, there were over 400), many of which are State Ministers and representives from top global companies like Accenture, KPMG and ITZBund.
June 19-21, 2023
WECC – Westhafen Event & Convention Center Westhafenstrasse 1, 13353 Berlin, Germany
Nextcloud stand 37, Ebene 1
If you're interested in meeting with our Nextcloud team on-site, we invite you to submit your contact details via the form below. Please note that due to limited availability, we need to carefully consider how we can provide free tickets. However, we value your interest and will do our best to accommodate as many requests as possible.
We look forward to connecting with you at Zukunftskongress!