Hi!
I am not an expert in this stuff, but i try my best to explain the problem.
This might not be the right place to ask this question. But usually there are some smart people here to help. So i try it anyway
I would like to make my plex movie directory see my nextcloud movie directory. This would be a very convinient way to utilize storage and keep data up to date.
The current issue seems to be permission based.
My initial approach is described here. It simply uses a softlink
ln -s /path/to/read/file.mp4 /path/to/plex/movies

Now i can see my NC files within the plex directory via my shell. But plex still can't read them. This should be a permission issue, so i used the hint in the source above:
usermod -a -G www-data plex

The problem here is, that plex it not a known user.

Since both services run in seperate containers, i thougth the plex user is only visible within the container. I used exec to enter the plex container but couldn't find the plex user there either.
This is the command i used to check for users:
cut -d: -f1 /etc/passwd

So i figured, that if i find the users that have access to the plex movie directory on my drive, i could just add this user to the www-data group. But it found no special user permission: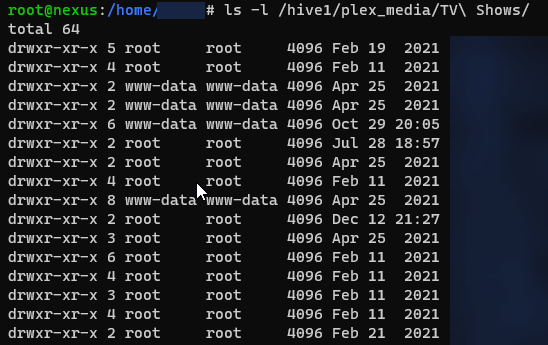 And when checking my plex docker-compose file:
---
version: "2.1"
services:
  plex:
    image: ghcr.io/linuxserver/plex
    container_name: plex
    network_mode: host
    environment:
      - PUID=33  
      - PGID=33 
      - VERSION=docker
    volumes:
      - /home/xxx/plex/config:/config
      - /hive1/plex_media:/media
    restart: unless-stopped

i was surprised to see the entry 33 under environment. It seems to be referencing to the group www-data. So i would think that plex should already be some sort of part of group www-data?
I really don't know much about this stuff and i only work with this as a hobby. Maybe someone can give me a hint on things i don't understand or even someting that might help me fix this.
Either would mean a lot to me