Hello professional helpers
I've got the problem to be unable to connect to the Nextcloud in any way.
I installed the nextcloudpi around 2-3 years ago and a few months back I did the silly thing to disable ncp-web via the web menu.
Got a new Job, didn't have time to fix this and it ran fine till now.
Today my Nextcloud only says:
Internal Server Error
The server encountered an internal error and was unable to complete your request.
Please contact the server administrator if this error reappears multiple times, please include the technical details below in your report.
More details can be found in the server log.
Restarting doesn't solve the problem.
I tried to ssh to the pi, but it closes the connection right after putting in the user "ncp" and the password. I have read in a thread here, that ncp is not for getting a connection via ssh.
So I took a monitor and a keyboard to the rpi, connected and got the exact same result.
The text says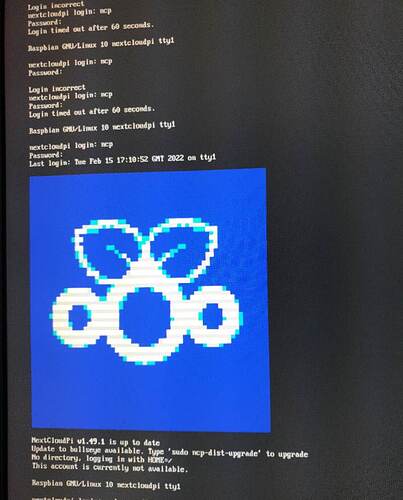 Now I got no more idea how to fix this…
I don't know how to log in.
If nothing helps I would try to get my second rpi up running nextcloudpi and try to copy the files.