Dear Community,
I Just setup my fresh Nextcloud installation on a CentOS 7 running Apache 2.4 (PHP 5.6.29).
Now since 11.0.1 is out i get a notification to update my Nextcloud. If I start the Updater the update just hang on the Initializing Screen showing the following content:
Initializing
Current version is 11.0.0.

And it just hangs on this screen.
If I try to check for updates using the cli I get a message that my Nextcloud is up to date.
Nextcloud is already latest version
If i run php updater/updater.phar I get the following output: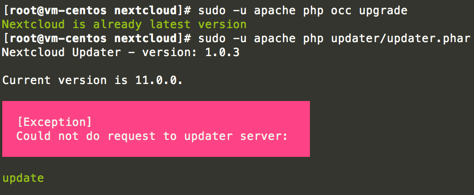 What's wrong? How can I fix this issue?
Thank's for your help in advance.
Best,
Patrick
P.S.: Btw, this is my first post. I like this Forum software a lot compared to other forums.