Hi
I'm running NC 19.0.5 on stable channel with the Docker installed on a Raspbian Buster.
I got this morning through the NC windows client a notification that 19.0.6 was delivered, so I went to the admin overview, and indeed I'm seeing (soory in French but easily understandable in the context)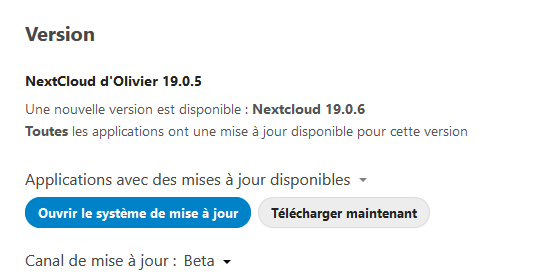 But when I try to do the update whether through the UI or though the CLI, it tells me the 19.0.5 version is up-to-date and there is nothing to do:


or
pi@raspberrypi ~ $ update_nextcloud
Nextcloud Updater - version: v19.0.3-8-gbfdc40b

Current version is 19.0.5.

No update available.

Nothing to do.

I first tried with the stable channel, and it didn't work so I tried with the beta channel, but not working better (and even weirder, It should show some 20.X version in this channel)…
Any clue?